It is with great pleasure that Nahla Ink features some of the works of the contemporary Egyptian artist Hany Rashed. At the top of his game, Rashed is in his element challenging both current Egyptian socio-political and individual concerns in a colourful, subversive, creative and prolific way from his base in Cairo.
Born in 1975, Rashed is mostly self-taught although significantly he studied under the well known and highly respected Egyptian painter Mohamed Abla for a number of years. Utilising various artistic tools and methods, Rashed's expressive creations and interpretations tend to excite, delight and invite viewers to think for themselves as to his underlying messages.
Over the years, Rashed's paintings have used popular imagery and cultural icons which draw upon social trends that affect young people in Egypt, such as exaggerated materialism, issues of sexuality and state control over rights and freedoms. Whenever he creates, he brings a dose of irony to the different sides to Egyptian life and his generation.
From the beginning of the 2011 Revolution, Rashed visually documented the historical uprisings and their impact on the local Cairenes through his work. For example, he brought the comic character 'Asa7by' (2012) to make fun of the abuse of Internet memes whilst his 'Bulldozer' series (2015) was a playful deconstruction and repositioning affecting the people and society. On a more personal level, his 'The Last Farewell' (2017) expressed feelings about a real family tragedy.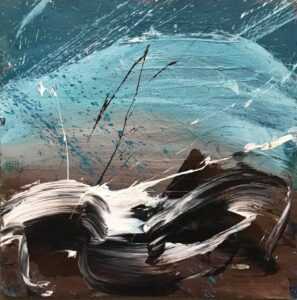 Most recently and as featured on Nahla Ink, Rashed has produced a new series of paintings under the title of '90 Days in the Studio', a reference to the imposed global quarantine due to the Corona virus; when he was stuck in his studio for three months and didn't go out except for food. The project was done in four developmental stages.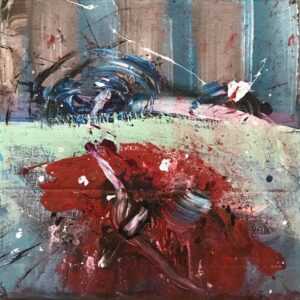 Explaining to Nahla Ink, he offered insight into the thought processes behind this incredible series that took him altogether 90 days to complete.
Rashed: "The first stage was depicting in the abstract which gave me a sense of freedom and yet there was also a hint to a bit of violence with reference to the pressures of quarantine, being stuck at home and the feeling of suppression. The abstraction came from being stuck, but it then transformed into liberation through colour and the bursts of energy. I was producing action through abstraction rather than thinking.
"The second stage became about drawing and including myself in the visual narrative. Normally my work is about people and going out; but, now, I was all alone. So I drew myself with the abstract background, like being isolated in a world of my own. The work reflects that.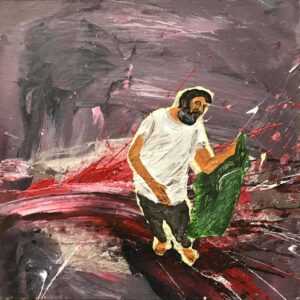 "Whist in the third stage I introduced the image of an airplane, taking into account that there were no airplanes flying during this period and little travel. I tried to show the airplane as inflated and changed its appearance because it is not able to move. Again, I put the airplane with the abstract background to put a focus on what is currently happening and things being stationary.
"Lastly, the fourth stage was about the concept of a room and enclosed space. I tried to use different rooms to show a connection between the quietness or stillness of a room with the explosion of colour – from the abstract stage – to show again an element of the violence and the movement through sports, like riding a horse.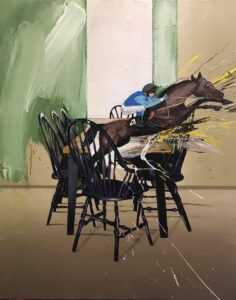 "This 2020 period has had its challenges for sure and I am an artist who has been very influenced by time, history and current affairs. With every canvass the aim is to archive time, space and what is happening during lockdown. In general, I wanted to direct attention to the silence of a room, the idea of explosion and violence in the abstract, and then again movement like with the airplane or with the sports."
Some of Rashed's work forms a part of the private collection of the Tate Modern Gallery in London, UK. He has also been exhibited in many solo and collective shows in Egyptian galleries and in Europe.
For more information and to follow Hany Rashed on Instagram: https://www.instagram.com/hanyrashed_/