Nahla Ink is thrilled to feature the works of the Egyptian artist Soad Abdel-Rasoul for the month of July 2020. I came to learn of Abdel-Rasoul's work through her participation in the 'WAVES' group exhibition currently showing at the Sulger-Buel Gallery in London. Curated by Najlaa El-Ageli, of Noon Arts Projects, the show celebrates five contemporary artists linked to North Africa and its diaspora, as they explore both regional and global themes.
Due to the Corona virus and the strict lockdown that was imposed on London, the WAVES show had to adapt and launched online in early June, 2020. You can still view the exhibition by taking the virtual tour until 31 August, 2020 and download the catalogue: https://www.sulger-buel-gallery.com/exhibitions/17-waves-curated-by-najlaa-el-ageli-virtual-exhibition/
Artist Biography: Courtesy of Noon Arts Projects & Sulger-Buel Gallery
Soad Abdel-Rasoul was born in 1974 in Cairo, Egypt. Her art explores the African figurative art form. She draws upon folklore and the interaction between people, animals and plants, whilst embracing the interior portraiture traditions of Europe, resulting in a re- imagination of the human form.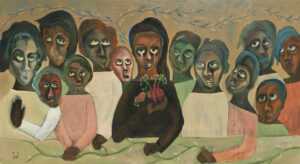 When asked why there are tree branches and creeping vines, not to mention the faces and legs of animals in her portraits, she said: "As my work evolved I started adding botanical elements to biological ones, trying to combat the idea that human beings are more important than animals and plants."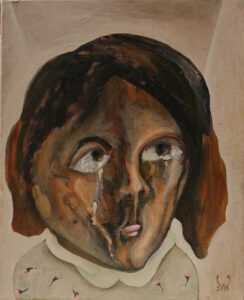 Employing drawing, painting, graphic design and collage, the artist offers great detail and an interweaving of human and geographical mapping to trace back roots within the living world. With her metamorphosed figures, she doesn't seek to visualise physical beauty, but reflects on the connection between people and the elements of existence like earth, metals and plants.
With tree-like figures, branching veins and arteries, as well as monstrous insectlike characters, these merge in her mixed media canvases and collage bust, reminding viewers of the bond between the interior of the human body and the exterior.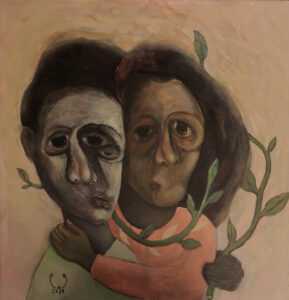 By using the fragments of maps and the scientific illustrations of the human body, Abdul-Rasoul re-conceptualises the way we perceive space and notions of the human body, offering something that exalts the feminine, the emotional and the animalistic.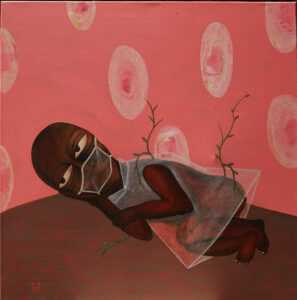 She has stated: "Women are my 'icons' that I am dealing with in my paintings – not to visualise their physical beauty, but more their secrets, hidden, their special ingredients and silent desires. My works are the result of my reflections on the secret worlds and the relationships-connections of women to the elements of existence like earth, metals, plants etc. I fill the white canvas space in front of me with how I wish my personality to be, and not like the world wishes it to be."