Sondos Abdelmalak
This month I am extremely pleased to feature the Tunisian-Jordanian architect and visual artist Sondos Abdelmalak on Nahla Ink and share some of her pieces. Unusual her work most certainly is, but it has such an allure; that once viewed, it remains in your imagination for an unexpected while and with the yearning to see more. Also rare is the fact you can appreciate her work from different angles just the same, whether turned up or sideways!
I first became aware of Abdelmalak's art last December through an article in the Arab press (http://www.https://alarab.co.uk) shared via Facebook, when I reached out to her and she responded positively. More recently, she also kindly invited me to the London Art Biennale 2021, held at Chelsea Old Town Hall in Kensington, when one of her paintings was exhibited.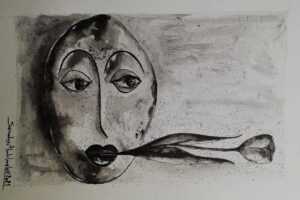 Primarily qualified as an architect, Abdelmalak graduated from the National School of Architecture & Urbanism of Tunis in 2010. Currently living with her family in Vienna, Austria and working as such; for Abdelmalak, the art is a more recent development, having become a refuge away from stress and worries in the last few years.
In her own words, Abdelmalak offered: "Painting is my way to be free as a woman and as a human being. I run from the constraints and difficulties I face daily in my profession as an architect, in my life as a woman, wife and mother; to the white canvas, my white papers, my colours, my books and my music. My studio becomes my sanctuary.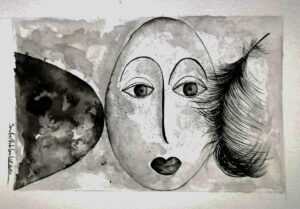 "Due to my multiple moving during the last ten years, I have had the chance to live, to work, to paint and to exhibit my artworks in many countries, including: Tunisia, Jordan, The Netherlands, Malaysia, Austria, Italy, The UK, Sweden and India.
"Through my pieces, I try to translate women's inner worlds and the experience of motherhood, as well as my emotions and dreams. My artistic practice is marked by experimentation; the experimentation in techniques, media, styles and subjects."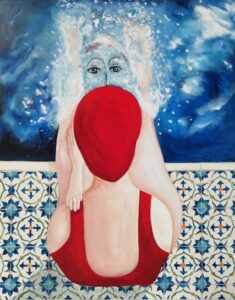 For example, about her piece titled 'Shaken Reflection', Abdelmalak said: "She looks into the water… she sees her reflection. She sees what she thinks of herself, a reflection of her thoughts, never her real self. But what and how is her real self? She shakes the reflection and her thoughts with it. Maybe she will find her truest self in the moving and disturbed water."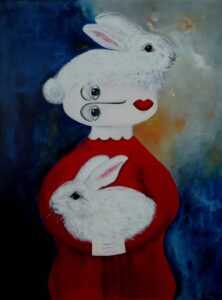 In the 'Mother of Two', the artist again challenges the idea of what it means to be a mother (usually associated with prosperity, joy, love and unconditional giving) and to integrate that with the reality of daily hard work, an exhausted soul and body, and sense of burden. Therein lies the struggle, how to maintain the balance between being a woman and being a mother.
Above all about her work, she said: "When I paint, I empty myself from myself. I paint my fears, worries, sadness and my dreams … When I paint, I draw the unseen, the thin lines I feel in the ordinary details of every day life."
To follow the artist on Instagram: https://www.instagram.com/sondos_ab/