Guest Post: Annie Carpenter
A haven for education, knowledge, cultural exchange and insight into Muslim civilisations, The Aga Khan Centre is ideally located in London's Kings Cross area. Opened in September 2018, it is comprised of three organisations that work together to bridge the gap in the understanding of Muslim cultures and connecting the public to global development issues. These three organisations are: The Aga Khan Foundation, The Aga Khan University Institute for the Study of Muslim Civilisations (AKU-ISMC), and The Institute of Ismaili Studies.
Housed in an impressive building that was specifically designed by renowned Japanese architect Fumihiko Maki, it incorporates a collection of beautiful gardens, courtyards and terraces that provide an insight into the diversity and influence of Islamic landscape design. The entire structure represents openness, dialogue and respect for differing viewpoints; and, offers a tranquil environment for scholars, students and staff alike to share ideas and work together.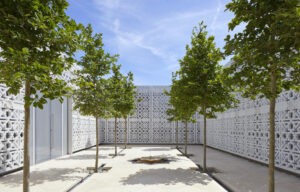 Proudly adding to its functions and overall reach, the Aga Khan Centre has just launched a new space within the building – on the ground floor – to serve as an art gallery. Hosting a changing programme of exhibitions, it hopes to create an even better understanding of Islam and Muslim cultures, past and present, from an artistic viewpoint.
Its inaugural show, titled 'At the Corner of a Dream', offers the first UK solo presentation of the Lebanese-Egyptian artist Bahia Shehab, whose work first came into global view when she used street art as an act of protest during the Arab Spring of 2011.
Comprised of five digital artworks produced by Shehab in 2019 and commissioned by AKU-ISMC, they relate to the poetry murals she originally painted in four different cities (Cairo, New York, Beirut and Marrakesh) as well as on the Greek island of Cephalonia. Inspired by the Palestinian poet Mahmoud Darwish (1941-2008) – the show's title is a line from one of his poems – she uses lines from his Arabic verse to tell the world that ideas cannot be killed and to show that humankind is united in its struggle against oppression and dictatorship.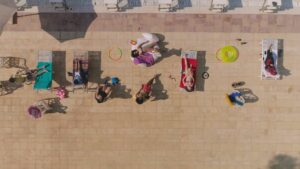 In the films, therefore, each location corresponds to sites where Shehab created a mural. Viewing her walls as meeting points and conversation starters, she also raises the curiosity of passers-by, prompting them to ask about the stories behind the writing and encouraging them to stop and ask how they can tackle injustice in their own country, or how they can work for equality and help others live in a better world.
In one titled 'We Love Life', for example, Shehab reflects on Darwish's stanza that reads "We love life if we had access to it". It depicts a wedding in four different settings. In the first, the couple are seen in a tuk-tuk (a transportation bike used in informal housing areas in Cairo); in the second, they are seated in their wedding chairs on the street in front of a local butcher shop; in the third they are seen in a destroyed house and, finally, they sit on thrones with the city of the dead in the background. The film plays on the idea of hope and the ability to dream visualising something as joyous as a wedding to reflect a very morbid reality where even hope becomes impossible.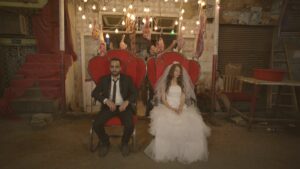 The films are presented in an immersive environment across four screens creating a 360° display in which each image is seamlessly adjoined. Alongside, the show includes a site-specific calligraffiti stencil wall work and two vitrines containing paraphernalia relating to her artistic practice.
Commenting on the show, Curator Esen Kaya said: 'We are honoured to be launching our new Gallery with an exhibition by Bahia Shehab. Shehab's striking and stylized work provides an opportunity for us to think about some of the issues happening across the world today. The work is both poetic and stimulating as she encourages us to think about the lives of others, whilst considering our own."
Commissioned by the AKU-ISMC, the exhibition marks the publication of a book of the same name on Shehab's poetry-based work, published by Gingko Press. It also follows the unveiling of a major 30-metre mural called 'We Will Not Repent', created for Lincoln University in August 2019.
The exhibition is on view at the Aga Khan Centre Gallery from the 27 September – 5 January 2020.
Further information: https://www.agakhancentre.org.uk/gallery/
You can purchase Bahia's new publication, 'At the Corner of a Dream. A Journey of Resistance & Revolution: The Street Art of Bahia Shehab' here: https://www.gingko.org.uk/title/at-the-corner-of-a-dream/
Note: Guest writer Annie Carpenter is a London-based freelance writer with a particular focus on art and photography. She writes for The London Magazine, Widewalls and Medium, among others.