Like the mysterious woman hidden under a fine silk abaya, Saudi Arabia is the country cloaked in expensive outer wear but that doesn't give away too much. Although we can smell the fragrance of her woody-scented oud, we can never quite imagine the beauty that might be beneath. With the exception of Mecca and Medina that reveal the religious pilgrim trail, the rest of Saudi seems to exist in a parallel universe that the rest of us are unable to fathom.
The lack of a visual reference point has also added to the problem. In terms of world cinema, only one film production originating in Saudi has ever made it to the big wide international screen in the past few years. 'Wadjda' (2012) by Haifaa Al Mansour was the first feature film shot entirely in the Kingdom and the first ever made by a female Saudi director. Now the good news is that we have a new movie made in Saudi and created by a young terrific trio that opens up the country in a new and a very much up-to-date kind of way.
Directed by the 33-year-old Mahmoud Sabbagh, 'Barakah Meets Barakah' is the romantic story between a rich pretty Saudi girl named Bibi – who is an Instagram video blogger and local star – and the young frustrated government employee, Barakah, who falls in love with her. The tale sees the hilarious difficulties they encounter in trying to have a proper date in a city where public space is under constant surveillance and where the moral police are on the look out for any suspicious behaviour lest it goes against the strict religious dictates.
Played by Fatima Al-Banawi and Hisham Fageeh and set in Jeddah, we gain an insight into the lives of both the very rich Saudis who live in gilded mansions with easy access to designer labels and international travel and the less well-off who are a bit more restricted. But even with her online fame and wealth, Bibi can only post images and videos on Instagram that don't fully reveal her gorgeous face or her sexy figure. There is also the use of pixelated images in the film as a reminder of that which must be self-censored to avoid the wrath of the ever-watchful government.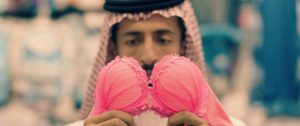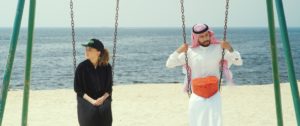 'Barakah Meets Barakah' is a film that also deals with how the young generation of Saudis are responding to the new communication technologies and the use of online social media platforms. It explores how the virtual space is spilling over into their local reality and perhaps opening the way for a social revolution to be led by the millennials. With light humour, Sabbagh has directed something vey special, touching and timely that dares to challenge our perceptions of exactly what could be under that fine silk abaya.
Very much honoured, I met with the fresh-faced trio at the BFI London Film Festival and had five minutes to interview each of them to get their thoughts on the film. Already, 'Barakah Meets Barakah' has been screened at the Berlinale for its world premiere, the Toronto International Film Festival and in Hong Kong, Italy, Mexico, Brazil and now London. They are also in the process of submitting it for 'Best Foreign Language' film at the Oscars!
Nahla With Director Mahmoud Sabbagh
Nahla: What is it like for youngsters in Saudi today? Is the culture more open than what it used to be?
Sabbagh: "I would say it is very challenging to live in Saudi as a young person. We are the millennial generation and we have less privileges economically, socially and politically. We are kind of the voiceless generation and the generation that actually came after the oil boom. It is tougher for us to create our own opportunities.
"That being said and addressed, I think also that it is interesting times to be in Saudi because it is evolving at a very phenomenal pace. The big change is happening in the undercurrents with the internet and social media sweeping the country. There is a big phenomena of usage. Because we don't' have a very open public space, the kids use social media and the internet as an alternative.
"So they meet there, they interact and they are exposed to different narratives and different realities and they create their own stuff… This is very well reflected in the Youtube scene, maybe one of the most vibrant and prolific Youtube content is coming from Saudi Arabia in the Arab world. There is the comedy and the music, for example, and I think this is going to evolve into something more meaningful and into real cinema"
Nahla: The online world is uncensored, but is there still a need for self-censorship when it comes to Saudi?
Sabbagh: "You feel it and you cannot articulate it. I come from a journalism background, so I tend to know what are the red lines, what should we push or shouldn't push at the moment. There are social constraints and there are political constraints. But I would say that Saudi also fairly enjoys a very critical culture, in the press, through social media and in Youtube content. There is a lot of social commentary and also very brave political commentary allowing for interaction.
"We also have a new leadership, a de facto deputy crown prince who is only 31 years old, who speaks our language and speaks our tone, who is addressing the problems we have as youth. His name is Mohammed Bin Salman. He was very vocal about how the government should change and he is participating in this critical culture, so this is a positive thing."
Nahla: Why use humour?
Sabbagh: "I use humour as a tactic because it opens to a broader audience and it is universal. Although the film has lots of comedic lines, in the undercurrents, you can see the disarray and the discontent. I use humour because we should face our own challenges by mocking them and making fun of them. Not to appease to the West or Western values or Eastern values, but for us to distort the power paradigm through humour."
Nahla: What is your next project?
Sabbagh: "I will still do films from Saudi and real stories from Saudi because we are among the least told about societies in the world. We should make films from home and I understand the need. I will continue to do the same with a small budget, small crew but tackle very open and honest stories."
Nahla With Actress Fatima Al Banawi
Nahla: How is social media changing the lives of young Saudis?
Al Banawi: "It has created something like a virtual public space for people to meet up. It is interesting that at the end of the night, you can open Twitter and feel you are not alone. Your thoughts are mutual and you feel one another. There is a sort of dialogue happening. Even if it started in the virtual world, it has definitely had an extension to our actual realities.
"One of the most important things you would do however is to make the social media an extension of your reality and not the opposite way. You need a lot of concentration and a lot of time management and work, for it in your own reality to do something worthy of sharing on social media. So the focus doesn't become sharing, the focus becomes on producing and working on something tangible and real and heartfelt."
Nahla: Tell me about social segregation between the sexes in Saudi?
Al Banawi: "No, you are told by people that are not us. That is why the film is so highly important. We have been brought up watching films and literature being written about us but not by us and rarely would I watch something on the big screen and feel or identify with it as true or real.
"Not to say that our film is to be generalised upon a thirty million population; but, of course, it is a true, raw, real and heartfelt depiction of Saudi people, of a group of Saudi people of a certain population in Saudi. So we are Saudis and this film is Saudi and it makes a difference because it is coming from the region and not to the region about it."
Nahla: How long have you known Mahmoud and Hisham? What was it like to work with them?
Al Banawi: "I've known Mahmoud as an old family friend since ten years and Hisham for about six years, when he moved back from the United States. It was these conversations about our generation and the art that brought us together and I was familiar with both of their works. I also believed in the project knowing there will be a social element to the film. So when I pursued this, it was more from my side a social contribution to this dialogue between people and between cultures of different backgrounds and traditions."
Nahla: Can you also tell me more about the humour in the film?
Al Banawi: "Mahmoud wanted to write a film about public space which is what the film talks about. But of course it is hard to tackle public space in a film format, otherwise it will be more like a documentary. So Hisham has a very nice witty kind of humour character and I feel like his energy was nicely brought into this film, in the sense that you would see him and you would laugh at certain facial expressions for example.
"Also the other characters in the film master this natural humour. One of the nice things about this film is that it is local, so that a lot of the locals would watch it and laugh at certain humour that maybe the international audience would not laugh at. The international audience might laugh at a different part of the film, while the locals would feel otherwise."
Nahla: What about young romance in Saudi?
Al Banawi: "These things have changed. As Hisham mentioned, he met his wife online on Twitter and they are happily married now. This kind of gives you a glimpse of how social media has an extension outside of the screen and directly applied in our own realities, which is very important for me.
"When social media first started, I was careful and I didn't want to feel that I had a reality that was only inside a screen. It was very important for me and very responsible of me that I wanted to make the extension and to work on the extension and not what is happening inside the screen."
Nahla With Actor Hisham Fageeh
Nahla: Tell me, is there a sign of social change taking place in Saudi?
Fageeh: "Change is inevitable and I think that is what you will see in the movie. Sometimes change can be for the progress of specific people or sometimes it is a regression for specific people. It all depends, but change is imminent and it is always happening. Whether you call that progress is based on your value system that is subjective and fluid. It is definitely different from 1994 and it will be different in another ten years."
Nahla: What are your views about social media and the impact it is having on young Saudis?
Fageeh: "I have made a career out of social media! I met my wife on social media. I was living in New York and she was living in the Eastern Province and we started following each other because we liked each other's tweets. We met up and then we dated when I got back to Saudi Arabia. She was tweeting about Kendrick Lamar lyrics, and the things that we both identified with. As Fatima says, it creates a track record or a breadcrumb trail relating to different societies and different niche groups."
'Barakah Meets Barakah' was screened twice as part of the BFI London Film Festival 2016.
The team hope that it will continue to travel the world and perhaps even win that Oscar gong!
For more on the BFI LFF: http://www.bfi.org.uk/lff
Note: This article was first published circa October 2016