Guest Post: Soulaf Khalifeh
I have been looking into art and design as an expression of cultural identity since I was a design student, learning about art history and artists whose vision shaped the world we live in today. When I looked closely at the Arab world's artistic contribution, I found one uniquely dominant element: calligraphy.
This finding sparked my interest in letters, in their forms and proportions as well as their connection to who we are. When I found calligraphy, I found an amazing tool of self expression and I never let go of it since; and, never could I have imagined that this art form would lead me to London, my second home, where I have been working as a type designer since 2013.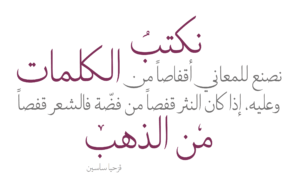 Boutros Aura: Arabic font designed by Soulaf Khalifeh between 2014 and 2017
Calligraphy then became more than an art form; it became a way for me to connect to my language, to my home, especially after I moved abroad.
Like many Arabs, I left the comfort of my hometown and family seeking the fulfilment of my passion and ambitions abroad; and, like many Arabs, I started asking myself 'Who am I? Where do I belong? What does it mean to be Arab when I'm living in a non-Arab country?'
The Arab diaspora is a big community and instead of rejecting immigration, exile or displacement, we should embrace and celebrate the fact that we don't need geographic borders to tell us who we are. Art tells me who I am, and it's that cultural identity, which I am fortunate to be able to express through the medium of calligraphy, that makes me proud to say I'm Arab.
It is Arabic, as a language and as an art form that binds us together, no matter where we came from or where we immigrated. If we lose it, we lose a big part of who we are.
I know I want to hold on to Arabic, and if you share my sentiment, please join me on my journey to 'Bring Arabic Back Home' and support my campaign by supporting not only the beautiful art of Arabic calligraphy; but, also, my vision to create a platform that fulfils the ambitions of the thirsty and talented Arabic creative community and that serves the communication needs of the Arabic-speaking world so that we wouldn't have to go abroad to look for Arabic.
Different calligraphy giveaways are available through the campaign, like the campaign t-shirt that designed so that you can wear your language and bring Arabic back home. You can also order your own custom calligraphy artwork.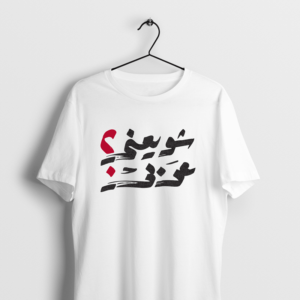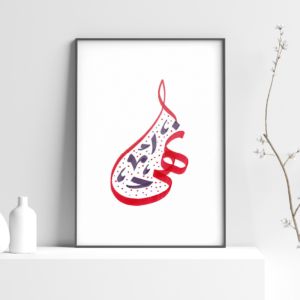 The Bring Arabic Back Home campaign is running until 18 September on Indiegogo: https://www.indiegogo.com/projects/bring-arabic-back-home#/
To learn more about my calligraphy and type design work, visit my website: http://www.soulafkhalifeh.com
Twitter: https://twitter.com/soulafkh?lang=en   Instagram: https://www.instagram.com/soulafkh/