The Jubilee weekend has brought out a British person inside of me I never knew existed. First I went to the Battersea Park Jubilee Festival for the River Pageant and was super excited to be surrounded by hundreds of thousands of people. All trying to get a glimpse of the lady of the hour, she is celebrating sixty years on the throne. The crowd on the day totalled over a million and I can't think of any other world superstar, other than HM Queen Elizabeth II, who can manage even half that much.
It took me back to December 1996 when I first pledged to be faithful and bear true allegiance to the Queen Elizabeth II, her heirs and successors according to law. It was an important day as I got my British passport, but with the only pity being that they didn't have a citizenship test nor a citizenship ceremony as part of the process, which I would have loved to do.
Since I have felt grateful to the Queen as my new shiny ID gave me access to things and places otherwise not possible with my Libyan nationality. It has enabled me to feel free and confidant in traveling the world without hassle. Not only that, I did study English Law and learned about the UK government system, the British constitution and the role of the Monarchy.
On Sunday in great British fashion nobody was excluded from the festivities. The crowds were a reflection of the diversity of the country, with not just natives but people of all ethnicities come together to celebrate. My guess is we the latter have all been resident in the UK long enough to feel and know that we belong and as we have been granted our rights and protection of civil liberties within the legal framework.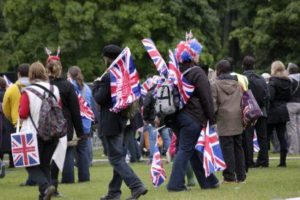 The weekend has reaffirmed that HM the Queen, who has been around longer than any other monarch in modern history, will always be an icon of the archetypical mother of a nation, offering herself as the symbol for all of us to come together, regardless of any divides. Her patience and resilience are admirable qualities; and, even as some believe the royal family should be abolished, this Queen has earned all the respect that she gets.
Not only does she take seriously her duties to serve her country, she never takes more liberties than what is permitted. She has devoted her whole life to her role and has never complained or begged tiredness or sickness in all the years she has been on the throne and working. Now she is 86.
It was truly wonderful to behold all of this, with everybody carrying and waving the Union Jack; or, they were holding items with the design on hats, sunglasses, scarves, afro wigs, pins, hair bands, shoes, suits and candy floss.
After Battersea where I couldn't get a good view of the River Thames, my friends and I managed to tube it to Waterloo to see the atmosphere by the Southbank. It was electric there too. The Royal Festival Hall, the Queen Elizabeth Hall and the NFT were full of people standing on the balconies with lots of families and children too. Even though it got colder and wetter, it was beautiful to see the whole width of the river bank and the bridges jam-packed with spectators.
I was soaked by the end of it, but I am so glad I didn't stay at home and just proxy view it on TV. This way I got British fever and it won't escape me for a bit.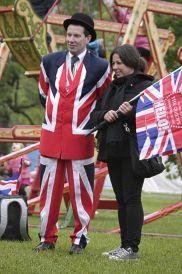 Note: This article was first published circa June 2012