Riveting to watch on stage, Joseph Tawadros plays his pear-shaped instrument with such gusto, flair and focus, matched with creative movement and abandon. Usually donning a colourful outfit with a fancy hat (I quite like his bright yellow Fez) and spirited accessories (the heart-shaped purple specs), it really is the music that brings the throngs to his concerts and sells albums (he's released 18 to date!).
Highly energetic, Tawadros knows he can joke and laugh with his audience; but, it is, of course, the oud which makes him the virtuoso genius who has been recognised and honoured as such far and wide. Already awarded four ARIAs (Australian Recording Industry Association), he was gifted with the Order of Australia Medal (AM) for his services to music and composition in 2016. He has toured extensively, also, headlining in Europe, America, Asia and the Middle East and liaising with outstanding international artists.
Originally from a Coptic Egyptian background, the 37-year-old grew up in Sydney, Australia. Whether he is performing with the Sydney Symphony Orchestra, at prestigious halls (he is the only musician to have performed a solo concert for BBC Proms) or more intimate gigs, one can expect heightened emotions, as the oud brings newer tangents of experience and soundscapes, so seamlessly and effortlessly. His wooden-stringed wonder imparts the language of the synergy he personally embodies, between Middle Eastern heritage and adopted Western culture. Tawadros is an expert and not afraid to challenge and combine different musical genres, developing new structures and having fun with it!
Currently in London and having got stuck here the past couple of years because of the Covid pandemic, I met up with Tawadros in Little Venice, near St Mary Magdalene Church (the musical venue also known as Grand Junction), ahead of his concert this week Friday, where he will be performing and sharing tracks from his new album, titled 'Hope in an Empty City'.
Nahla: What brings you to London and where is home?
Joseph Tawadros (JT): I really love Australia, as I grew up there and had a good time and a good following. But I also like London and the buzz, the people and the energy. It is quite inspiring and a good place to compose. I do feel very much at home in Australia and Egypt too. So I have these three places which bind me together and make me; and, I have to get a dose of each one of them every year.
Usually, I am traveling from place to place and doing concerts, so it is just an interesting different chapter. Now things are opening up, I have a big Australian tour scheduled for November with The Australian Chamber Orchestra. It is half my works and half of Vivaldi, and music of the Baroque, which I hope is going ahead. Again, because of the current lockdowns, it is on the knife's edge.
Nahla: How has your life been impacted by Covid?
JT: Well, financially, it has been a disaster, but I have managed to survive. But I rely on performances and that hasn't' happened as much, so it has been a difficult time. But in one way, you find a lot of magic. You got to look at the positives of the situation.
And, of course, musicians have been going through things like this since the beginning of time. That is what the definition of a musician is, to overcome adversity or create in adversity or when times are tough. I think that is what people mostly look to, as artists to keep them sane and to resonate with them.
Since I was bored, I did also start a fun FB and Instagram page, writing about the wonderful characters of Shepherd's Bush where I live. I was writing mainly about refugees, like Humans of New York, but Shepherd's Bush London style. There was nothing much to do, but I found their stories and took photos. I haven't done it for a while since I started getting work, but that was something that kept me focused.
Nahla: I am intrigued to know, who first got you into playing the oud?
JT: My parents emigrated to Australia when I was two. We had family there who moved quite earlier, so they thought it was a good idea. We also loved the arts and were so into Egypt, it made me want to be a part of it and learn more about it.
Maybe because we were big movie buffs, I saw the oud being played; and, especially, I loved the film about Sayed Darwish that inspired me to learn. There was a real thirst and wanting to be an Ambassador for Arabic and Egyptian things. I even had a big Egyptian stamp collection and watched Egyptian football!
I probably wouldn't have been the oud player I am now, with the things I have accomplished, had I maybe been brought up in the Middle East. I was open to different types of music, and in Australia, that is a very multi-cultured society, so I was exposed to all sorts of cultures and sounds, and foods too. I think that shaped my attitude in music and weight.
Nahla: Do you go back to Egypt?
JT: Yes, I last performed there two years ago. I also gave a workshop at the Arabic Oud House, which is always great because it shows that they might benefit from some of the things you've learnt over the years. They are very accepting and warm and I have many great musician friends there. I also think the Egyptians are the funniest of the Arabs, they like to have a laugh, even if they are down in the dumps. In a way, I am taking this attitude to the pandemic, in an Egyptian way.
Nahla: Tell me about the new album, 'Hope in an Empty City'? Where is this city?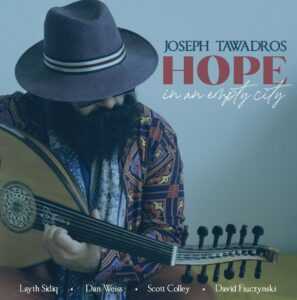 JT: Part of this album was recorded in New York a couple of years ago at Avatar Studios, but then I added new tracks later in London and they were just solo oud tracks. I had the material but didn't get round to releasing it, it just didn't seem the right time.
It has the beautiful violin by Layth Sidiq, who is an amazing Jordanian violinist. It is the first album that I have another real Arabic voice added, though it is still a nice hybrid between some great jazz musicians. I've got Dan Weiss on drums, Scott Colley on double bass, and David Fiuczynski on fretted and fretless electric guitar.
In terms of the solo tracks, they are more what I was feeling more recently with that space and the empty city. So, yes, it is quite a timely album with 17 numbers. Again, it provides a soundtrack for everyone living what I lived and it could be any city. My music is universal, it could be anyone's story.
Nahla: What inspires your compositions?
JT: I try to do something different. I love the traditional music that is always going to be there and is deeply rooted. For instance, I love Umm Kulthum and I try to find new recordings. I usually pick a song and be obsessed with it for a week or two, after which I'll just drop it. Currently, it is 'Ansak' because she does some great improvisations I haven't heard before. But that will drop soon and I'll go into another song.
Nahla: You make the oud accessible to a Western audience and you seem at ease mixing it with different genres, like jazz, classical and rock too. How do you do this?
JT: I've had to grow up like that, it is what I've had to do and not out of intention. Because I am Australian I am that audience as well. There was a time when I was a kid and felt embarrassed to play in front of people. But, then, there was a point when I realised that in fact, this is something anyone can enjoy; and, just drop the view that people are finding this too ethnic. Just go for it and play.
There are parts in the new album where the oud sounds like a guitar; where it provides a backing role, instead of it always being at the front. I had a friend once who said to me: "You let all the other instrumentalists play too much. Aren't you afraid they will overshadow you or take the spotlight?" But I think not.
It is more about what serves the music, and not about serving your ego. You have to be true to it; and, if the music doesn't require you, then you should stay out of it. Like the violin in 'Hope in an Empty City', it has a lot of presence; that is because I like Sidiq and he has something to say. I believe it should always be what serves the music, and what will connect with people.
Nahla: What is planned for you in the next few weeks and months ahead?
JT: I am looking forward to the event at Grand Junction on 10 September. Then I am playing with the Chamber Orchestra in Bromley with Benjamin Grosvenor, who is a great classical piano player. After, I will be going back to Australia; although, there is talk I might not be coming back. They seem to be blocking all travel, unless you have a very good excuse. These are very uncertain times but I am optimistic, so let's keep the music flowing and see how we go.
To buy tickets for the Grand Junction concert: https://grandjunction.org.uk/events/joseph-tawadros/
For more on Joseph Tawadros and his official website: http://josephtawadros.com
To follow Joseph Tawadros on Facebook: https://www.facebook.com/JosephTawadrosOud
To find Joseph Tawadros on Instagram: https://www.instagram.com/josephtawadros/
This article was first published on Nahla Ink circa September 2021