Launching this June month, the East End Film Festival (EEFF) will be bringing an incredibly rich, wide and diverse programme of UK premiering films created by independent local and international directors. Dedicated to first and second time filmmakers, the EEFF mission is to discover, support and exhibit pioneering works; and, to introduce viewers to innovative and challenging cinematic experiences. It will take place at arts venues in the heart of London's East End.
Celebrating over fifteen years, this not-for-profit film and multimedia festival is recognised as one of the UK's leading and finest. Over ten days, it is expected to attract an audience of over 20,000 and its feat this year will be to screen altogether 36 British feature titles and 50 internationals. Alongside these, the EEFF will also host its highly prized awards system for films (for Best Feature EEFF, Best Documentary Feature, Best UK Short Film, Short Film Audience Award, Accession Award and Rising Star Award) as well as engaging its visitors with opening and closing galas, industry master-classes, free pop-ups, parties and immersive live events.
Relevant to the Middle East and North Africa (MENA) region and the Arabic speaking world, there will be at least five very important UK film premieres to look our for, one important segment of the 'Roots' strand and attention towards the 'Day of Refuge', which will be addressing one of the most pressing humanitarian issues of our time. Skimming through the whole of the festival's events, the EEFF is testimony to London's continually powerful position and dynamic ability to provide a creative international platform that celebrates and exchanges the contributions of both local and global artists.
Andrew Simpson, Head of Programming, said: "The EEFF is delighted to present the boldest, bravest and most exciting new cinema from the Middle East. Taking in the Arab Spring, the invasion of Iraq, and the power of rock 'n' roll and hip hop in vibrant, politicised youth culture, this selection is a million miles from representations generally seen the media, as well as being potent, vibrant cinema from important new voices."
Below are the MENA-related screenings and events with the EEFF blurbs provided.
As I Open My Eyes (Tunisia)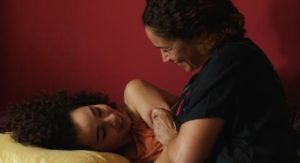 Tunisia in the months leading up to the Jasmine Revolution provides the backdrop to a tale of rebellious youth and rock n' roll. Eighteen-year-old Farah is being pressured to become a doctor by her family, but what she really wants is to sing in her band, get drunk with her friends and experience the dramas of life in Tunis' underground music scene. Described as the best fictional film yet made about the Arab Spring, Leyla Bouzid's debut is a humane portrait of the counterculture in a conservative society, with incredible songs and serious heart.
Tickets: www.eastendfilmfestival.com/programme-2016/17328/as-i-open-my-eyes
Mariam (Saudi Arabia)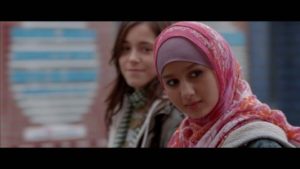 Saudi Arabian journalist Faiza Ambah's debut film is a poignant insight into the issues facing a young Muslim woman growing up in a Western country. It's 2004 in France and a new law has recently been passed banning religious symbols in schools, including the hijab. For Mariam, a young teenager who has recently begun wearing the veil after returning from pilgrimage in Mecca with her grandmother, this means an agonising and unfair choice between continuing her studies and retaining an important part of her religious identity. Pressure from her father to conform to French law and attention from a young boy who admires her determination complicates this situation further. Will she continue to resist external pressures and in so doing put her education at risk, or find a way to please authority whilst staying true to herself?
Tickets: www.eastendfilmfestival.com/programme-2016/17510/mariam
Exploiting It (UK Documentary)
In this thought-provoking documentary by first-time filmmaker Jade Jackman, several different British-Muslim women share their recent experiences of being negatively portrayed or stereotyped by the western media. Through these women's perspectives we see an unexpected form of oppression that contradicts and challenges the misinformed view that these women are in fact oppressed by their faith. Furthermore, this short film offers an insight into how governmental legislation, such as Prevent and the Counter Terrorism and Security Bill, is seeping into different areas of life and institutionalising racist stereotypes.
Tickets: www.eastendfilmfestival.com/programme-2016/17510/mariam
The Curve (Jordan)

Taciturn mystery man Radi likes his life just the way it is. Keeping himself to himself, a woman jumping into the back of his old VW camper van is the last thing he wants. But when she asks for his help, old feelings of human warmth and caring begin to stir. It's the start of a meandering, touching road trip involving a cast of colourful characters, a Palestinian refugee, and the staggering vistas of Jordan, in this involving and human debut from debut writer-director Rifqi Assaf.
Tickets: www.eastendfilmfestival.com/programme-2016/17375/curve-the
Homeland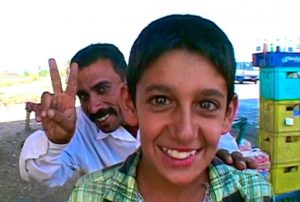 Iraq Year Zero (Iraq): A vital, totemic achievement in documentary filmmaking, Homeland is the ultimate cinematic account of the American invasion of Iraq. Abbas Fahdel films his family and friends, both before and after the 2003 invasion, the result a devastating, patient portrait of a community broken by reckless military intervention, in two parts. Before the Fall documents a people living under the expectation of war, with After the Battle laying bare the consequences of war for ordinary people, with visceral, personal and utterly devastating consequences.
Tickets: www.eastendfilmfestival.com/programme-2016/17453/homeland-iraq-year-zero
The Catastrophe Club (Palestine-US)
In collaboration with the Hackney Palestine Solidarity Campaign, the Palestinian-American performance poet and writer Remi Kanazi will present his latest collection of poetry titled 'Before the Next Bomb Drops: Rising Up From Brooklyn to Palestine'. Based in New York City, his political commentary has been featured by news outlets throughout the world. His poetry has taken him across the US, Canada, Europe and the Middle East.
Tickets: www.eastendfilmfestival.com/events-2016/17825/catastrophe-club-remi-kanazi
Day of Refuge
The EEFF is dedicating a whole day to the monumental issue of the plight of refugees (from Syria, Iraq, Afghanistan and elsewhere) that has been dominating the news headlines and public debate. In partnership with the Refugee Council, the University of East London (UEL) and Refugee Week, this will be a chance to examine and discuss the crisis, look into the response of developed nations to the genuine human need and the responsibility of filmmakers in how they address the refugee experience on film. Divided into sections, the day will include documentary film screenings, a panel discussion, a spoken word event and an art exhibition.
Tickets: www.eastendfilmfestival.com/day-of-refuge
For more information on the EE FF2016: http://www.eastendfilmfestival.com/
Note: This article was first published circa June 2016