This August brings a tribute exhibition featuring the works of the late Libyan satirist and human rights activist Hasan 'Alsatoor' Dhaimish (1955-2016). Titled as 'Resistance, Rebellion & Revolution', it shows his prolific output of over 5,000 satirical cartoons spanning four decades, as well as a great selection of his paintings, at the Hoxton 253 venue in the N1 London postcode.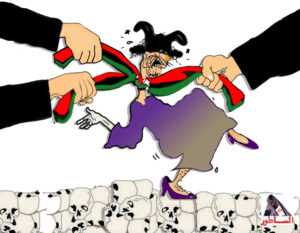 Passionately curated by his children, Sherif and Hanna Dhaimish, they are honouring his loving memory since his passing in 2016 at the age of 61, by sharing his life story through his various bodies of artwork, while also expanding on his personal journey as an exiled Libyan in the UK. Earlier this year also they launched a website where visitors can access the vast catalogue of his output, a biography and more.
His son, Sherif, had the following to say about the exhibition: "The hardest part of this project has been choosing what not to show. My dad was a multifaceted artist. Those familiar with his satirical work often didn't know about the artworks he produced outside of the political arena; and many of those who knew him here in England had no idea of the reception his cartoons were getting across the globe, particularly when he started his own website. This exhibition is a celebration of his life and the works he created. He was a special man, and his story deserves to be told".
Hasan had left Benghazi, Libya in 1975 at the age of 19. He settled in Burnley, Lancashire and soon started publishing his critical cartoons in magazines. Hasan's satire gained popularity in the early 1980s when he began publishing cartoons for oppositional magazines such as Jihad, which was produced in London by Mahmood Suleiman Maghribi.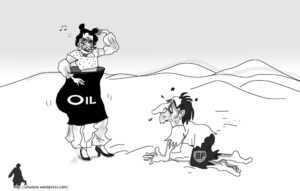 It wasn't until the turn of the millennium, however, that Hasan adopted the pseudonym 'Alsatoor' (the Cleaver) and started gaining momentum with his satire thanks to the internet. A decade in education and a new career as an A-Level graphics teacher in Lancashire gifted him with a new range of creative skills, allowing his satire to grow with the digital age. Before beginning his own blog, he produced works for popular oppositional websites like Libya Watonona and Libya Mostakbal.
The Hoxton 253 show will have a dedicated display of his satire through the ages – from original magazines, to digital murals criticising Gaddafi and his regime, right through to his working during the 2011 Libyan Revolution and its aftermath, when Alsatoor was at his zenith. Hasan saw Alsatoor's role as exposing corruption and voicing what he perceived to be the truth, no matter how harsh that might be. He understood and respected the power of ridicule, which is evident in the thousands of works he produced over time.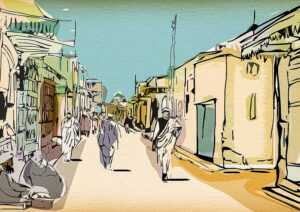 Coinciding with the satire is a series of paintings he produced outside of the political realm. During the 1990s, Hasan was on the path of artistic exploration and education. He began creating works that used afro-American culture as the subject. From an earlier age, Hasan's musical taste came from rock n roll, motown in the 1960s, disco and funk in the 1970s, as well as reggae and dub.
However, it wasn't until his discovery of jazz and Delta blues that the works began to influence his art. As Hasan joined college and then university as a mature student, he unshackled himself from the caricature, and began to use art as an expression from within as well as a political tool.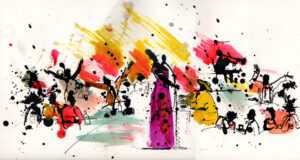 Hasan once stated: "During my fight against Gaddafi as Alsatoor in the 2000s, I found myself spending long periods working alone. I used to listen to jazz and classical music. The two were my companions on the long British winter nights while sitting in front of the screen. I liked jazz and blues music, it affected my artistic career.
"I loved it due to its melodies, its vitality, and the conditions in which it appeared. The suffering of black people in America at the beginning of the nineteenth century from slavery and racism was a reason behind creating this type of music. I felt a commonality in the suffering and persecution, which made me love it more, and I expressed that in a group of paintings and drawings."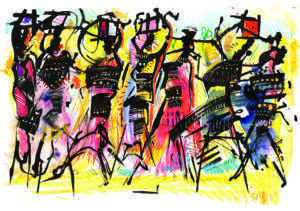 As part of the efforts to keep their father's artwork alive and in circulation, Sherif has also published an accompanying limited edition art book that is available to pre-order at all bookstores. It is titled 'Hasan 'Alsatoor' Dhaimish – A Libyan Artist in Exile' (Pendle Press, 2021).
The exhibition launches on the 18th August with an opening night and will run for the next ten days.
For more on the exhibition: https://www.hoxton253.com/resistance-rebellion-revolution.html
For more on the artworks of Hasan Dhaimish: https://www.alsatoor.com/
This article was first published circa August 2021