Nahla Ink is super proud to feature the stunning artworks of the visual artist Houda Terjuman for the month of February 2020.
Born in Tangier, Morocco to a Syrian father and Swiss mother, Terjuman's parents had embarked on a new life in the 1970s after having lived in Italy and Mali. Whilst growing up in Tangier, Terjuman was exposed to a diverse environment with people belonging to different cultures, languages and religions living side by side in peace and mutual tolerance.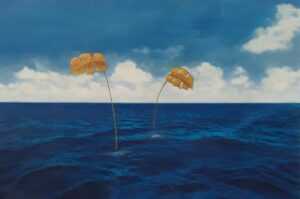 Self taught as an artist – because her parents had preferred for her to do a BA in Management at the American College of Switzerland in Leysin – her signature materials are sponge cardboard, wire and wood plaster for her delicate sculptures and oil on canvas for her paintings. For the artist, each piece is a little tale about the themes closest to her heart, be they of migration, resilience, open-mindedness, roots or a flip side of anxiety and insecurities.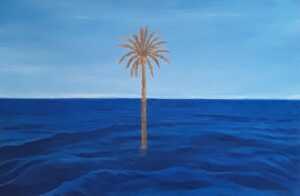 Terjuman has had solo shows in Madrid (Spain) at the Casa Árabe, Paris (France) at the Institut du Monde Arabe, London with Arts Cabinet Research, Lisbon (Portugal), Dubai (UAE), Tunis (Tunisia) and extensively in Morocco; whilst participating in international group exhibitions in more European cities and being represented in contemporary art fairs, including the 1:54 Contemporary African Art Fair in Marrakesh.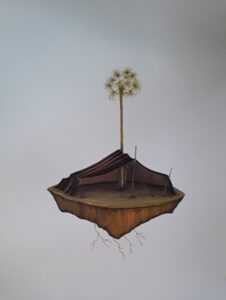 A big highlight of her career is being part of the current touring exhibition organised by the Aga Khan Museum in collaboration with the Italian Imago Mundi, which addresses the subject of identity for migrant art practitioners and cross-cultural artistic realities. Bringing the works of 15 artists whose backgrounds involve 25 different countries, it is a travelling project that started in Italy and will continue by visiting Canada, the United States, Europe and the MENA region.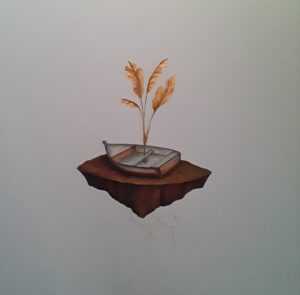 Terjuman has provided an artist statement: "The history of my practice is overwhelmingly informed by my status as hybrid migrant, a condition associated to second generation migrants. The transient nature of my evolution as a person and as an artist opened up fascinating ways of playing with representation in art. My father as a first generation migrant used to tell us that we had no safety net and the integration in another country was necessary. However, I chose to refuse the concept and the practice of assimilation and instead, I cherished the status of hybridity which to me, offers a rich mix of backgrounds, voices, and belongings.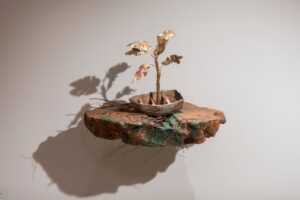 "Even though I will eternally feel foreign and possibly always displaced, I have earned through my experience an incredible strength which comes from the power of mobility, and the sense of freedom brought to me through the multitude of roots, languages and cultures I have grown up with. It is precisely in this fine space between the ideal that a new life in a new place can offer, mixed with the regret of loss and nostalgia that is carried through the process of migration, that I have chosen to situate my practice and through which I work to represented feelings of floating freedom, but also of fear and insecurity.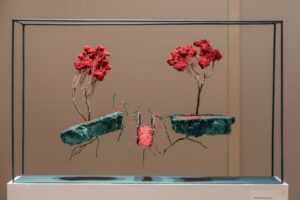 "My sculptures and paintings are little familiar objects that weave stories. These small objects act as bearers of hope and bridges making the link between cultures. An empty chair symbolises what we left behind and keeps us connected to our roots. A lonely boat, is a bearer of hope. A floating bridge invites us to build connections and empathy towards the unknown."
For more on the artist Houda Terjuman: https://www.houdaterjuman.com
For more on Social Media:
https://www.instagram.com/houdaterjuman/