I had the privilege to meet up with the Palestinian-Irish playwright Hannah Khalil this week in London a day before the opening of her latest production 'Scenes from 68 Years'. A project that has been in development for over five years, it went through several stages to secure all the necessary funding and for the script to be artistically developed to a tee. It is being produced by Sandpit Arts.
Here she tells me more about the inspiration behind her latest theatrical creation, her hopes for the play, the choice of cast, intended audience and the use of that signature black humour in tackling the very complex story of Palestine and its people.
Whether you are one of Khalil's avid followers – who frequently attend her plays or listen in to her productions on BBC Radio 4 – or new to her work, this will be a must attend for Londoners. It promises to be the freshest, liveliest and most dynamic theatrical treatment to date that looks sharply yet lovingly into the lives of Palestinians whose historical journey has seen them live under and survive a brutal occupation over the passage of 68 years.
For the award-winning Khalil, 'Scenes from 68 Years' is her fourth major play being put on a big London stage, following the earlier works of 'Leaving Home' (at King's Head Theatre), 'The Unofficial Guide' (at Battersea Arts Centre) and 'Plan D' (at Tristan Bates Theatre). This latest production will also be the second project to be directed by Chris White, who is not just the playwright's artistic partner but also her husband of eight years.
One unusual element for the audience is that one of the cast members will be performing every night via Skype from a base in Nazareth. The Palestinian Maisa Abd Elhad will be making an online debut as she interacts with the other six also highly esteemed actors. Tackling the challenge of completing 30-plus scenes and 50-plus characters in 100 minutes, the other cast members are: Yasen Atour, Taghrid Choucair-Vizoso, Janine Harouni, Pinar Ogun, Mateo Oxley and Peter Polycarpou.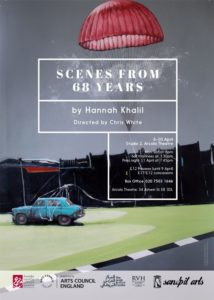 Nahla: Can you give me an example of one of the scenes, your inspiration and the artistic approach you have taken in creating the play.
Khalil: "For all the scenes, I wanted to set up a scenario where the audience think they know the version of the Arab world and Palestine that is being portrayed; but that, by the end of each scene, their expectations have been undercut. That is what I am trying to do. Also, bar none, these scenes are based on real stories that have been given to me by somebody or based on research and or anecdotal evidence.
"One example scene is of a little girl who is all covered up in bandages and she calls on her father for help because she is feeling uncomfortable. So the audience presume that she has been in some kind of a horrible accident or something to do with the war. But the end of the scene, you realise that actually her father is a doctor who in 1948 was helping resistance fighters learn first aid and that the girl was being used as a test dummy.
"The writing of the scenes was in fact very quick and easy but the devil of the play is getting those scenes that are seemingly unlinked into a framework and order that gives a dramatic satisfaction, without having one character whose journey you are following through. It is about getting a form whereby you have a moment of climax where you need to have it and a moment of pathos where you need to have it also."
Nahla: Can you tell me more about the characters in the play?
Khalil: "Only two characters are named in the script. One is Rula and the other one is Nadia. Otherwise, everyone is called as 'man', 'soldier', 'friendly soldier', 'woman', 'daughter', 'mother'. They are all non-specific, because the idea is to give a sense of what it is like to live under occupation and not just necessarily for the Palestinians but also for the Israelis as well, although they don't' get as much of a look in.
"There are in fact two family scenes which are set up in counterpoint to one another. In one there is a table in an Israeli household with a teenage girl and her parents and in the second a Palestinian household with two teenage boys and their mother. They were written as a pair of scenes and I hope they resonate for the audience, to see the similarities between them and especially regarding the wants and needs of young people."
Nahla: Being half-Palestinian, do you feel an artistic responsibility to tackle the subject of Palestine?
Khalil: "In my twenties when I first started writing plays, I avoided writing about Palestine like the plague because I was very scared of it. Everyone still asks me about the situation in Palestine and almost wanting me to be a spokesperson. But I didn't feel like I had the knowledge. I felt very uncomfortable about it.
"But later on I met Chris White, the man who is now my husband, who gently encouraged me to explore it by offering books, seminars and other things. So suddenly I did loads and loads of work and research and was fascinated to learn the history of Palestine and now I feel really equipped to write about it.
"It is possible that some Palestinians might watch this play and think that here is an opportunity to bang the drum for Palestine and that I am not doing it hard enough. But my argument will always be that I am not actually writing for people who know what is going on. I am writing for a middle class English person who goes to the theatre and is terrified and doesn't' want to engage with Palestine because it is too much.
"But, of course, there is so much to it and you may be afraid to go there because you feel you have to spend too much time and effort to make sense of the situation and understand it, so let's ignore it. But what I really hope this play does for such an audience member is to make them laugh. I have tried to make this a funny play so that anyone watching, please laugh!"
Nahla: Are the scenes chronological and do you refer to any particular historical passage?
Khalil: "The scenes are not chronological and I consciously don't refer to things like BDS but the Nakba is referred to. Every scene has a date at the top of it but this was done more for the director and the actors so they understand the time and place of that scene, whether it is pre-second intifada or post and what has happened around it.
"But for the audience, I don't want them to be afraid for not knowing those details. Actually, the point I am making is whether it is 1949 or whether 2015, the situation for the Palestinians is the same. They are still in the same position and nothing has changed or hasn't changed enough! So the dates are just to help the audience locate the scenes, as there are so many different places and we can't be too specific."
Nahla: Can you tell me more about the use of humour in the script? Does humour defuse the difficulty and complexity of the subject?
Khalil: "I don't' set out trying to be funny but I do set out to find the truth. I think because I am half-Palestinian and half-Irish, they are both backgrounds that find humour from bleakness. I am really inspired by Samuel Beckett and that whole Beckettian way of existence and being that is sadly reminiscent of the Palestinian condition; that of being in stasis but having to remain good humoured and having that dreaded hope that keeps you going.
"Theatre is also different from documentaries, hard news or even feature films, in that theatre is for metaphor, it is for symbolism, it is for the live experience and the immediacy of that live experience… and that is why I am so excited for having Maisa in Palestine.
"What I am hoping that will do is to make people think: 'Hold on a minute, are we sat here watching a play and it is all pretend; but, that actually, this is a play about Palestine and there is someone who is actually there now, whose life is affected by all the things that are being described in this play?'"
Nahla: What about the cast, rehearsals and preparations for the big day? And what is it like to work with director Chris White?
Khalil: "Part of the reason why I started writing plays about Palestine was not just to explore it for myself but also to try and write great roles for Arab actors or actors of colour, because there are just not those parts for them or not good ones. How many times am I hearing my friends who are Arab say: 'Yes, I have my hijab on for an audition for a crying mother.' It is really reductive. So I want to write great and interesting parts and unusual parts, which are all in this play. Of the cast, four are Arab actors (Maisa, Taghrid, Yasen and Janine) and Peter who is Cypriot, Mateo who is English and Pinar who is Turkish.
"What is also so humbling and gratifying is that when I last went to the set, I started to cry and got really emotional, partly because they were all doing such a great job. But it wasn't just about the cast but the whole production team, including the production manager, stage manager, sound designer, our PR and producer. They all believe in the play and are working hard to try to bring it to life. It also means that I have gone to buy waterproof mascara, cause I'll be needing it!
"Chris is the one who has always encouraged me to explore my Palestinian roots and he has read every single thing I have ever written. He knows me very well obviously and understands my family and background. So, it is okay for me not to be in the rehearsal room, because when I go and see a run, I feel that, yes, of course, it is exactly how I imagined it would be because he knows."
Nahla: What are your hopes for this play?
Khalil: "Of course I want an Arab audience to come and watch the play and like it. But what I really would love is if someone to come up to me and say: 'That is totally not what I thought this play would be. It has made me think that I quite like to know more about Palestine and about Palestinian people, because I don't think they are what I thought.' If a couple of people go out of the play with that in their head, then hallelujah, I've done a good job!
"I would love it if the play has further life because there is a lot you can do with it depending on budget and location. You can have it with a minimum of six actors with little set or with 30 actors on the main stage of the Olivier with loads of money and different sets for every scene. So it would be exciting to think that other people might be inspired to do it their way.
"But for me, success looks like, wow, it is going to be on tomorrow! That it is finally happening! We have an amazing cast and an amazing crew and I just feel completely blessed and privileged for them to be doing my work."
Scenes from 68 Years is on at The Arcola Theatre from 6-30 April, 2016.
For more information on Sandpit Arts: http://www.sandpitproductions.com/​
Note: This article was first published circa April 2016