Rawan Adwan is a visual artist, ceramicist and painter from Jordan. She has a degree in Fine Arts and has worked for the Queen Alia Foundation for Social Welfare, The Jordanian Prime Ministry, The Museum of Parliamentary Life and The Jordan Archaeological Museum.
The works of the artist that featured on Nahla Ink are inspired by the Safaitic inscriptions and rock art to be found in the basalt desert of southern and northern Jordan aka the Harrah desert.
Containing animals and hunting scenes, as well as battle and Bedouin camp scenes, they provide an insight into the emotions of the people who carved them and their concerns; such as the availability of arable grazing grounds for their livestock or mourning the discovery of another inscription by a person who has since died.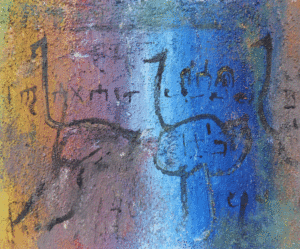 Adwan's mission with these has been to study them in great detail since 2005 – she needed official government permission to visit and see them first hand – and preserve their memory by creating her own contemporary paintings based on the mysterious and beautiful originals. Her experience as a ceramicist also helped her to create a texture on the surface of the canvass.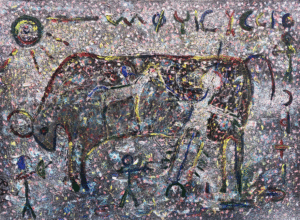 She said: "I made sure that my work maintained and reflected the spirit of this rich art work, and preserved their spontaneous line and character whilst redrawing them again with a new composition. The unique texture that I have introduced, as part of the new composition, creates a distinctive atmosphere. It also breathes new life into these once forgotten ancient Safaitic inscriptions and the tribal society that created them.
"Moreover, through my recomposed artworks, I hope to attract attention to these endangered artefacts and assist in their preservation. I believe they are as significant, as African tribal art and Aboriginal art, to the human civilisation. I hope that the art critic and historian will share my conviction of their importance."
Adwan has exhibited her artwork in Jordan (four solo shows) and internationally in Italy, the United Kingdom, Austria, California and Washington DC in America and Kuwait.
For more information about the artist: http://www.rawanadwan.co.uk/