Dear Readers
September has arrived with the Autumnal chill already in the air.
Of course, it is also the restart to the arts and culture season with plenty on offer that one is seriously spoilt for choice.
I can refer you as always to my 'Arab About London' events' listing with some of the highlights below.
For the full listing that is regularly updated, all you need is to visit the Nahla Ink home page. If you wish to be in the super know, you can also follow me on Facebook or Twitter.
A Magic Realist Afrabia
Looking at exhibitions, one can head over to the P21 Gallery for the latest 'A Magic Realist Afrabia', a solo show for the British-Sudanese artist Rayan Elnayal. Curated by Mishelle Brito, it presents a series of digital prints to explore ideas on multicultural identities, hybridity, and the third space. Looking at Sudanese author Tayeb Salih's 'Season of Migration to the North' for inspiration, Elnayal follows main character Mustafa's journey from Sudan to London and his struggle with his contradicting, convoluted and evolving ethnic identity in her work.
For more: http://p21.gallery/react/a-magic-realist-afrabia/
Marcel Khalifé
In terms of music, one of the bigger occasions will be the Lebanese composer, singer and Oud master Marcel Khalifé, as he makes a welcome return to the Barbican. Stripped back from his Al Mayadeen Ensemble that he usually performs with, he will be joined only by his son Rami Khalifé on piano and French jazz drummer Aymeric Westrich, reinterpreting his familiar music in a new way as a trio.
For more: https://www.barbican.org.uk/whats-on/2019/event/marcel-rami-khalife
Maya Youssef & Craig Ogden
One of my favourite instrumentalist Maya Youssef will also be performing this month. After her sold-out Kings Place concert in 2018, 'Women of the World' bring the award-winning Syrian Qanun composer and virtuoso guitarist Craig Ogden together in a concert exploring links with European, Middle-Eastern and South Asian music on plucked strings.
For more: https://www.kingsplace.co.uk/whats-on/world/maya-youssef-and-craig-ogden/
The Paradox of Creative Constraints
If you are cinematically minded, there is an all day public symposium 'The Paradox of Creative Constraints' to be held at the Mosaic Rooms. Reflecting on the paradox of creative constraints in contemporary cinema from the Middle East, it will host a day of film screenings and panel discussions with filmmakers, funders and programmers, features innovative rising talents as well as established experts looking at freedom of cinematic expression.
For more: https://mosaicrooms.org/event/the-paradox-of-creative-constraints/
The Stances Festival
Now in its 2nd edition, the 'Stances' multimedia and performance festival dedicated to contemporary artists from Morocco, Tunisia and Algeria will be taking place at Rich Mix. As they take daring and critical stances towards their ever-changing social and political landscape, either amongst their respective diasporas or across North Africa, this year's edition showcases the latest urban endeavours that young and upcoming creatives have embarked on to disentangle complexities of perception, identity, belonging and self-worth.
For more: https://richmix.org.uk/events/stances-%D9%85%D9%88%D8%A7%D9%82%D9%81-north-african-multimedia-performance-festival
Memory of Embers
If perhaps you are more into literature or poetry, Seagull Books and Exiled Writers Ink will be presenting 'Memory of Embers', an evening of poetry and discussion that platforms Iraqi voices and delves into themes of memory and exile, war and dictatorship, resistance and return. Featuring Salah Al Hamdani, Adnan al-Sayegh and Reem Kais Kubba – three remarkable Iraqi poets – the themes of displacement, loss and longing, as well as the spirit of revolt stirred up by their words have an increasingly universal resonance at a time where vast numbers of people are rendered placeless and precarious, seeking and being denied asylum by a North increasingly hostile to the 'others' that haunt its borders.
For more: https://www.eventbrite.com/e/memory-of-embers-iraqi-poets-on-exile-war-and-resistance-tickets-69361848155
Nahla Ink Artist of the Month – Laila Shawa
The Nahla Ink Artist of the Month is the incredible Palestinian Laila Shawa, whose powerful artworks over the years have garnered great attention and worldwide appreciation. One of the most prominent and prolific artists in terms of revolutionary and contemporary Arabic art, many of her pieces have become iconic and unmistakably Shawa. She has been exhibited internationally with paintings, silkscreen printing, sculptures and installations, as well as having works displayed in many public and private collections, including the British Museum. Living in London, she has given kind permission to feature her artworks on Nahla Ink with five of her most popular series.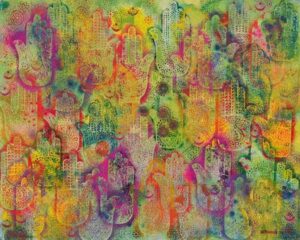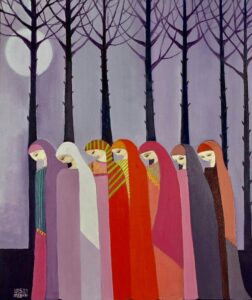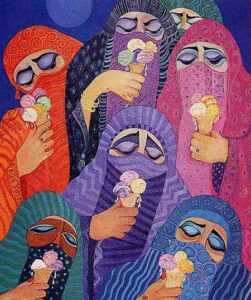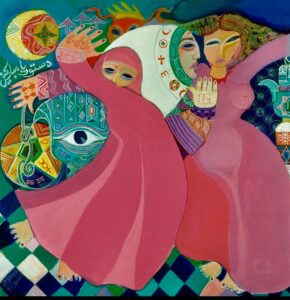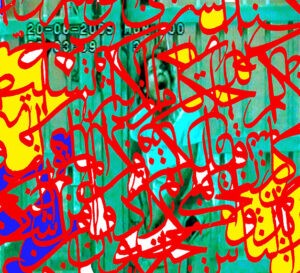 For more: http://www.octobergallery.co.uk/artists/shawa/index.shtml
Best wishes to all!
Nahla Al-Ageli
Freelance Journalist + Blogger
London, September 2019