Nahla Ink is super thrilled to begin the New Year 2020 by featuring the works of the Iraqi artist Nadia Osi.
Biography courtesy of the artist. 
Born and raised in Baghdad, Iraq, Nadia Osi currently lives and works as an artist in London. From early childhood, she was fond of drawing; and, her passion for the human figure and attention to detail gradually became the basis for her future creative career.
In 1988, Osi studied Graphic Design at the Academy of Fine Arts, Baghdad University. She later moved to London and studied at the American College where she got her BA in Commercial Art in 1995. She spent the next ten years working as a Graphic Designer and Illustrator in several design companies, when her illustrations and drawings featured in 'Al Jameela Magazine' at the Arab Press House in London and several other magazines.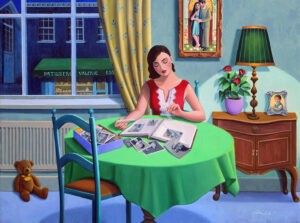 Since 2007, Nadia has participated in several art shows and exhibited in the UK, Belgium, USA, Jordan and UAE. Her distinctive painting style is highly sought after by private art galleries and art collectors. She also does commissions for clients around the Middle East, USA and Europe. She paints in oil, acrylic on canvas and sometimes in watercolour. She finds the painting experience to be "a total immersion in a sea of lush paint and colour which hopefully evolves into a pleasurable and meaningful experience for the viewer".
Inspired by her hometown of Baghdad, Osi's work explores Iraqi heritage, culture and traditions. One finds the old streets, the urban life, the coffee shops and the people in her paintings, in addition to her joyous use of colour and attention to detail.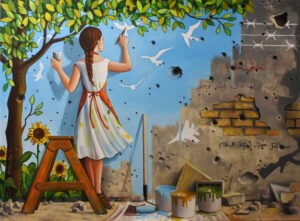 She said: "The concepts behind my work come from the memory of my hometown Baghdad. Like most of my paintings, I pick subjects that are bright and beautiful and which reflect the good times of my country decades ago; where and when love, peace, beauty and colours existed. As a society or way of life this is now becoming extinct. My paintings express the nostalgia and archive the Iraqi legacy of the social life and its beautiful human values, true friendships and warm neighbourhoods."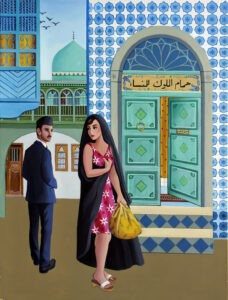 Although her focus has been on this journey connected with Iraq, Osi also loves to paint other subjects, as well as mastering landscape, portraits and still life. Recently her corporate and individual art collectors' base has increased due to positive social media exposure and online coverage.