I am so excited to end the year by featuring the French-Moroccan street artist, COMBO. Highlighting his exhibition 'Our Home', that is currently on show at the Sulger-Buel Gallery in SE1, it is a treat to have this visual artist hosted in London and for a rare indoor display of his work, open to the public until 7 January, 2022.
COMBO, aka Combo Culture Kidnapper, was born in 1989 in Amiens, France to a Lebanese-Christian father and a Moroccan-Muslim mother. With North African and Middle Eastern roots mixed with a European consciousness, it gives him an unusual perspective reflected in the intricacies of his pieces and underlying messages.
Having graduated from Villa Arson in Nice, he began with graffiti across the French Riviera, spending some years experimenting with spray paint. After a short stint working as an artistic director for advertising agencies in Paris, by 2012 he decided to return and dedicate himself to  street art, wherein his signature style, beginning to use wheat paste, imports and recycles popular cultural icons, urban myths, comics, cartoons, video games, paintings and photography.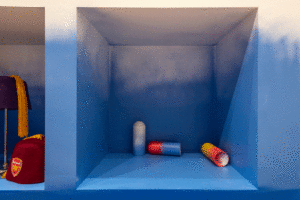 Expressing a humanistic ethos, COMBO's projects have been in parallel with significant travels around the world in which he chooses to engage as an artist. For example, in 2012, he infiltrated the forbidden area of Chernobyl to post advertising posters denouncing nuclear energy in relation with the anniversary of the accident at the Fukushima Plant. He also posted, in 2013, Google pages in Hong Kong that had been banned by the communist party, including for the arrest of artist Ai Weiwei. Later in Beirut, Lebanon he posted 'Less Hamas, More Hummus'; and, at the start of 2017, he parodied posters of the candidates for the French presidential election by posting electoral billboards.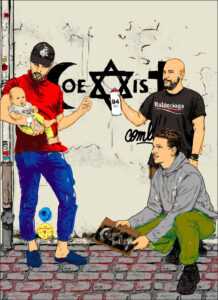 Using the wheat paste method to help create and then move his artwork onto street walls, his most famous graffiti was the 'CoeXist' project in which he campaigned in France for religious tolerance by a visual text incorporating the signs of the three Abrahamic faiths: a Muslim crescent (for the letter c), a star of David for the X and a Christian cross for the T. In fact, he was attacked whilst painting the wall at Porte Dorée near Paris as part of this work.
Whether referencing current events or tackling controversial themes, COMBO is a master at 'kidnapping' cultural motifs that have historical or contemporary significance and then manipulating them in such a way that encourages or provokes one to think about underlying concepts, such as: freedom, civil liberties, capitalism, consumerism, religion and extremist politics. Advocating peace, harmony and diversity, COMBO has said: "My pieces work in a disruptive way, they surprise. They are where they shouldn't be."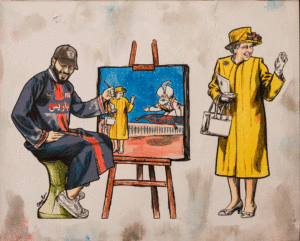 With a pop-art sense of humour and some cynicism, COMBO also acts as a public commentator who enjoys his hybrid-mixed identity. In particular, he likes to push forward the 'maghrebisation' of certain Western consumerist objects by adding Arabic details to them. In doing so, he invites a critical interplay between Western and non-Western culture, although denouncing any superiority of one over the other. Rather, he demonstrates the added value of such globally recognised items when they are adopted by the Arab market and how they come to be adapted or altered for different local use.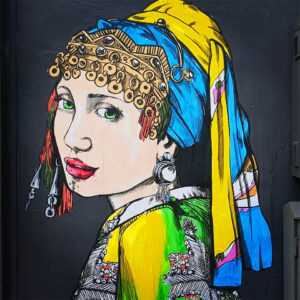 In his current exhibition 'Our home / دارنا ' – his first one in a London gallery – he has put together an installation that invites one into his imagined abode. As described by Najlaa El-Ageli, who curated the show: "The interactive installation works by recreating the intimate domestic space of a Moroccan sitting room and how it may be fantasized by the orientalist gaze, thus inviting the participant to discuss and investigate the evolution of the relationship between two complex cultural entities, using art as a space of a new narrative and perspective."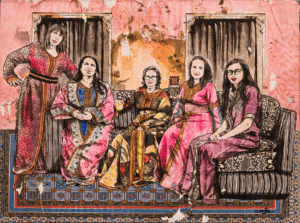 On the walls of the gallery that has become his imaginary living room, COMBO has recreated some of his mural works from the past to the present and placed them in a way that they also reference his personal family story. He has also added a dining table on top of which are Moroccan ceramic items next to European and American popular consumer products, like Kellogg's Frosties and Heinz Baked Beans, showing the interconnected realities as they sit innocently side by side.
And there is a lot more to discover in the mix of objects that are on the shelves, including the Moroccan fez designed by the artist with the Paris Saint-Germain Football Club logo and the beer bottles styled with tassels for fun! I highly recommend a visit before the exhibition ends.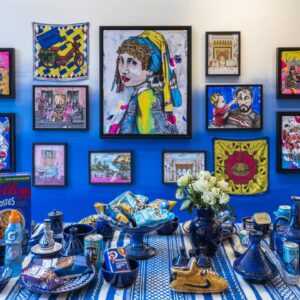 Biography, some text and images courtesy of the Sulger-Buel Gallery.
For more on COMBO on Instagram: https://www.instagram.com/combo_ck/
For more on COMBO on Facebook: https://www.facebook.com/combo.culturekidnapper/
For the Sulger-Buel Gallery: https://www.sulger-buel-gallery.com/