Ghassan Ismail is an Arabic calligraphy artist. Born in 1978 in Deir ez-Zor, Syria his father was a calligrapher who introduced him to the sophisticated art form.
Ismail: "He (my father) used to occupy me with a calligraphy pen and a paper to keep me from teasing my siblings." Growing up, he developed his skills and was influenced by known calligraphers, among them Jamil Al Bayram.
He attended the Fine and Applied Arts Institute and Adham Ismail Center for Fine Arts in Damascus and participated in several exhibitions in the Arab world, among them 'Letter & Color' (2014) and 'The Pioneers of the East' (2015) organised by The Arab Cultural Club and UNESCO respectively.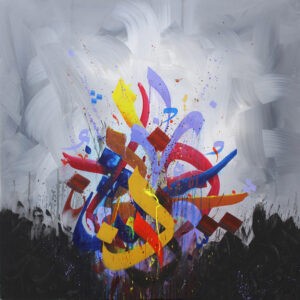 Due to the Syrian conflict in 2011, Ismail left Deir El Zor and went to Beirut, Lebanon, where he is currently based and teaches short courses in calligraphy.
Ismail: "I left Syria in 2011 at the outset of the war. Two years later I was told that my house had been looted. I lost all my archives, my paintings and photo albums. I don't know how to express myself well in words but I do in painted letters. What has been lost is lost and what remains is the desire to live and the gratitude for loved ones being safe and sound."
In 'The Lost and The Unlost' series of exploded letters – as featured on Nahla Ink – Ismail expresses the destruction of homes, culture and records due to war and the inherent dramatic loss through the calligraphic letters, yet still inspires hope through new imagery, new archives and the human capacity of renewal through art.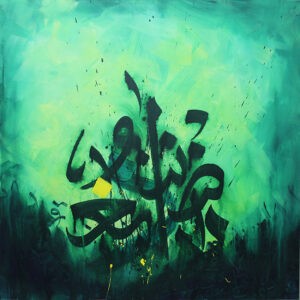 .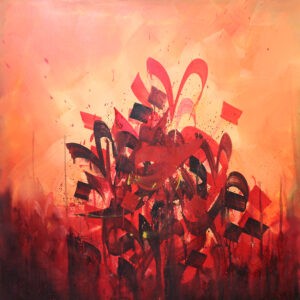 Ismail: "I love to embrace new styles, and the loss of my archives has transformed into a drive to develop my artwork and embrace contemporary approaches in Arabic calligraphy."
For more on Ghassan Ismail on Instagram: https://www.instagram.com/ghassan_ismail_artii/
For more information on facebooK: https://www.facebook.com/GHASSANISMAIL.ART/
Note: A big thank you to Rania Mneimneh who first put me in touch with the artist and supplied me with the relevant information. Mneimneh is an Arts curator, painter and designer based in Beirut, Lebanon. Last year she curated her debut exhibition in London at the P21 Gallery under the title 'Tints of Resilience'.
For more on this:  https://tintsofresilience.com/