'Fireworks', the new play by Palestinian writer Dalia Taha currently showing at the Royal Court Theatre, is set in a non-specified Palestinian city under siege and subject to Israeli air strikes, where two young families are the only residents left in a dilapidated building. Staged in a shabby worn-out flat that they both share, it is equipped with bare amenities – including old hard chairs, a cold-tiled floor and an electricity generator that doesn't always work – and with the unusual addition of a staircase that mysteriously goes down to nowhere.
It is clear that all the other neighbours have gone to safety shelters whereas these two families, for whatever personal reasons, are the only ones who have resisted the urge to abandon their home, even with the known dangers. As the audience, one is thus confronted with this powerful living situation – which would feel more like a prison if one had to live in it – even before the characters come to life and take over with their story.
Starting a couple days before Eid, excited eleven-year-old Lubna is with her father Khalid chatting. She tells him that she's composed a song in her head about her brother Ali, who was killed six months before. Prompted by her father to explain the difference between being shot and being martyred, she repeats what she has been told.
Lubna says: "When you get shot, you die and get put under the earth and you get eaten by worms. But when you're martyred, it doesn't' hurt and you don't' die. All the angels come and fly you up to the sky, and then they give you wings like theirs. And God gives you a house in heaven and when you go into it you find all of your family there because God's made a copy of them from some angels, so you don't feel lonely while you're waiting for them. And then when your family die they come and live with you in your house in heaven even if they haven't been martyred."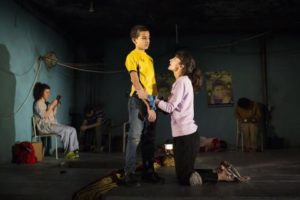 But this is, of course, just one of the many lies and strange fantasies that this little girl has been offered by her father, in order to help her emotionally digest the loss of her sibling and to give her some reassurance that all is well in their world. When he also denies that there are threatening bombs falling down the skies and says that the tape on the windows is a magic tape that is guaranteed to protect them, we realise just how grim the reality is outside.
Whilst with the other couple, it is more the mother Samar who is telling her son Khalil the lies even as he is showing signs of projecting aggression and violence towards her and a dead pet pigeon. To distract him, she plays Ninja turtles and Superman and makes him believe that they live on a very special planet; but, clearly, the twelve-year-old child is not convinced. And so, in this play, we see how the parents attempt to emotionally protect and shield the children in a dire situation; but, that the greater tragedy is that the adults themselves are struggling to come to terms with their predicament.
In Nahla, for example, we see the madness as she jokes about suicide and goes out onto the streets risking her life for a packet of cigarettes and candles. Whereas in the men, we sense the impotence, weakness, sadness and frustration as they both take desperate measures in the no way out situation. Khalid buys a pistol for an unknown reason and Ahmad, desiring to take revenge against the unnamed oppressor, involves himself with a risky operation that threatens and puts all of their lives in even more danger.
Eid then arrives with a twist but I won't be telling! Because this most powerful play is a must see for everyone; and, especially, for anyone who wants to experience a creative tackling of the current issue of what is happening – and has been happening for a very long time – to Palestinian families as they are put under physical, emotional and psychological pressure all in one lump of an existential disaster.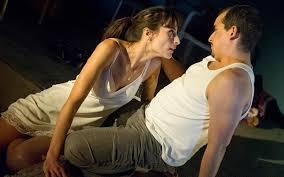 But through the adult and child actors with their human faces, voices, cries and screams from a script based on real lives, we also gain the positive eternal and universal insight of the deep caring love of parents for their children and the innocent love of children for their parents. I truly applaud Dalia Taha and the Royal Court for staging this and hope they extend the run, for that is my only concern as tickets are selling out fast!
Directed by Richard Twyman, the cast also could not have been better allocated or better performed, with actors: Saleh Bakri (as Khalid), Nabil Elouahabi (as Ahmad), Shereen Martin (as Samar), Sirine Saba (as Nahla), George Karageorgis and Yusuf Hofri (as Khalil on alternative nights), and Eden Nathanson and Shakira Riddell-Morales (as Lubna on alternative nights). Please also note that this play forms part of the 'International Playwrights: A Genesis Foundation Project' with additional support from the British Council and the A M Qattan Foundaiton. It is being accompanied by a series of events, talks and reading, from 12 February-14 March, 2015 at the Royal Court Theatre, Sloane Square, London SW1W 8AS.
For more information: https://royalcourttheatre.com/whats-on/fireworks-alab-nariya/
Note: This article was first published circa February 2015