As a professional dance choreographer one of the greater milestones is to be able to create a genius enough production that is worthy of being staged at Sadler's Wells. Recognised as one of the world's top venues dedicated to international dance, only the very best of ballet, flamenco, hip-hop, jazz, Latin and other forms is allowed on its London platform with a standard that requires no less than artistic perfection. So it was that when I met Charlotte Desorgher, she had just realised this very big aspiration.
Modest, energetic and friendly in person with a twinkle in her eye, she relayed to me the start of her passionate love affair with belly dance and the Middle East as well as revealing the great efforts and time it has taken her to finally get to this stage to be able to see her latest production 'Scheherazade and the One Thousand and One Nights' being performed for two nights at Sadler's Wells.
'Scheherazade' is Desorgher's brave experimental take on belly dance based on the vision and desire to elevate the exotic feminine dance form to a higher theatrical level that has hitherto not been achieved in the UK. She said: "My dream for a long time has been to tell the wider world about belly dance and I want to take it out particularly to the Western world and the wide general public in the same way that Michael Flatley did with Irish dancing in Riverdance. He made it spectacular and people saw Irish dancing in a new way."
Desorgher's credentials today can be matched by very few other dance experts in the UK and possibly far beyond. Since her first synchronistic exposure to belly dance in 1981, when the then 22-year-old Charlotte visited an Arab nightclub in Grosvenor Square and saw a belly dancer, she was determined to learn the technique, immerse herself in its history, development and culture as well as to teach it to as many women as possible for them also to be able to enjoy and share in the fun of it.
She said: "The club I visited in 1981 was a completely magical place called 'The Empress'. There were long tables and all nationalities of Arab men and women as well as a stage and orchestra. It was the beginning of the oil boom and the Arabs, especially from the Gulf, had a lot of money. There too they would bring lots of singers and dancers and I saw some famous Egyptian performers there. It was very heady for me and I loved seeing the way Arabs get completely into the music."
At the time, Desorgher had always dreamed of being a ballerina and had trained in ballet from the age of five, but by the age of fifteen it was clear that she was never going to have a tiny English ballerina body. As she says: "I grew hips!" So she decided to go into dance teaching instead and followed the classic European route. At the Froebel Institute of Roehampton University, she learned about contemporary dance and theory as well as the Martha Graham and Merce Cunningham techniques. But it was this new and rather strange dance that had captured her heart and imagination.
Desorgher: "When I first saw a belly dancer, it was an epiphany because I thought that this is a dance for a woman with hips and it is a dance where you can get in touch with that sensual womanliness. You can have hips, a bit of belly and boobs. I just thought this is totally for me! So then I taught myself belly dance because there was nobody teaching it back in those days."
Fast forward thirty-five years with a little time out, Desorgher is the authority to go to for all things belly dance. Over time, she has not only trained herself but thousands of others at the professional, semi-professional and beginners levels. She is the Founder-Director of 'Hipsinc', the largest belly dance school in the UK with branches throughout the country since 2007, and the Founder-Artistic Director of 'Company of Dream's which is behind the production of 'Scheherazade'.
The Origins of Belly Dance and Its Heyday
Although nobody knows the exact origins of belly dance, it has been associated with both the goddess myth and birth celebrations. According to Desorgher, there is strong evidence to suggest that it was part of birthing rituals. Like the Lamaze technique that helps to make childbirth pain free, a lot of the exercises are the exact same movements used in belly dance. For example, rocking the pelvis helps to release contractions and belly rolls help to get rid of cramps.
It is also agreed that belly dance originated somewhere in the Middle East and North Africa (MENA) region with the most likely locations being either Egypt or Turkey. There is also the probability that the Moors took it along North Africa and up to Spain as some say that Flamenco is the daughter of belly dance. Traditionally, also, belly dance was done by women with each other at home and didn't have any overt sexual connotations.
Desorgher explained: "If you consider that the dance comes from the Muslim world, of course men and women are separate and women dance for each other. There is a suggestion that what happened was that circa WWII, when the British soldiers heard about the women doing this exotic dance, they wanted to see it and some women needed the money. So they started to perform for the British and the French soldiers and it started to get associated with the sex industry."
One can say that belly dance had its heyday in the 1960s and early 1970s, when in Cairo particularly and through Egyptian cinema some terrific female belly dancers gained an artistic appreciation for their work as actresses who added an incredible dimension to the films and were almost revered. These included Samia Gamal, who had a longstanding romantic relationship with the famous Syrian composer Farid Al Atrash, Tahia Carioca and Suheir Zaki. More recently, Fifi Abdou and Dina Talaat are recognised as talented belly dancers.
Over time, however, belly dance has become more sexualised. I asked Desorgher what her views are about this. She said: "It is true that the costumes are now skimpier and there is lots of breast enhancement as well, so it is kind of more overtly sexual. But, for me, as a trained musician, one of the great things is the way that when you are belly dancing, what we are trying to show the audience is what is happening in the music that is unique to belly dance.
"For example, when the flute plays, we use our hands to show what the flute instrument is doing. Also with the kanun, we shimmy our shoulders. It is all about describing what is happening in the orchestra in a way that you don't see in any other dance form… this attempt to show the detail of the music and all the little isolations. It is sexy yes but it is also to present the rhythm of the tabla."
Turning Belly Dance Into A Dramatic Performance Piece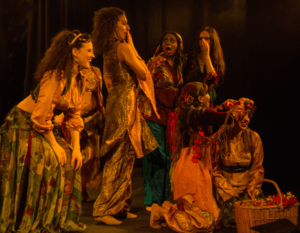 Desorger admits that there are some limitations in imagining belly dance being performed on the big stage and felt the need to incorporate other types of dance movements to make it more dynamic. Another problem for her was that the standards for belly dance on the international level were nowhere as high as those of say professional salsa, ballet, contemporary and jazz.
She said: "I started to think that although belly dance is a wonderful thing as an experiential dance form and also for the women who come to my classes to learn, performance dance is very different. Also when I once talked to the Editor of 'Dancing Times' and wanted him to do a feature on my work with my team, he said he would never cover it because the standards are not high enough. I was upset but realised he was right.
"If you think about the dancers on say 'Britain's Got Talent', there is always a wow with real explosive energy and excitement, whereas belly dance is a bit more internalised and softer. To make it bigger and to achieve the dream of taking belly dance out to the wider world, I had to, for example, bring guys in as I do also have a thing for lifts. If you think about 'Strictly', everybody loves the lifts and romantic duets! I have also added a bit of ballet and jazz."
To raise the standards, Desorgher invited some of the very best belly dancers in London, including one male dancer to join her in the quest to create something spectacular. Since 2012, they have been working together and when an Arts Council grant came, they knew there was no going back. Pulling things from other dance forms has enabled them to create a theatrical production that promises to excite, entertain and fascinate everyone.
Desorgher said: "When you come to see our show, you will see the belly dance but there is other stuff in there. I wouldn't call it a fusion but a blend. I like to think that I am taking belly dance beyond rather than just sticking other stuff into it. We did the pilot in May this year and it sold out for one night and people went mad for it!"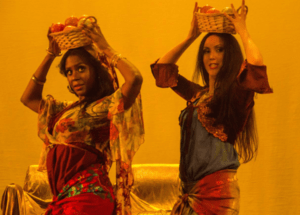 'Scheherazade' includes fifteen female and two male dancers and they come from many different countries, including Russia, Poland, Barbados, France, Spain, Portugal and Ireland. One of them is also a fire artist and illusionist who will bring fire on the stage and snakes too. Together, they will be reinterpreting the ancient tale of the woman who had to seduce a king with her tales in order for him not to kill her. It is as we know a story filled with drama, conflict, cruelty but also with love and a happy ending.
For Desorgher, however, there is just that one extra hope for the production. She said: "One of the things I would love is to bring in people from the Middle Eastern community in London to come and attend. I can't say I am trying to overcome the negative stereotypes of people from the Middle East by that story but I want to see people together in the theatre and rubbing shoulders."
I personally cannot wait to attend 'Scheherazade' and I hope that the tireless Desorgher achieves her next big ambition, which is to roll it out to other UK cities and potentially to Europe and the Middle East itself where the dance has been practised for centuries and still forms an integral part of many celebrations.
For more information on the Company of Dreams: http://companyofdreams.net/
Note: This article was first published circa September 2016