Nahla Ink is proud to feature the incredible works of the Jordanian artist Shereen Audi this month of May and share her pieces online. Some of the presented work reflects the artist's response to the current global Corona circumstance and is very new.
Shereen Audi was born in Amman, Jordan in 1970 and graduated from the Institute of Fine Arts in Amman in 1992. Since then she has completed several art and print making courses at Darat al Funun Summer Academy and the Jordan National Gallery of Fine Arts. Besides that, she has also attended workshops and courses under renowned and established artists such as the Jordanian painter Khaled Khries, the Iraqi artists Nedim Kufi and Mahmoud Obaidi, as well as Professor Lynne Allen who is Director at the School of Visual Arts, Boston University.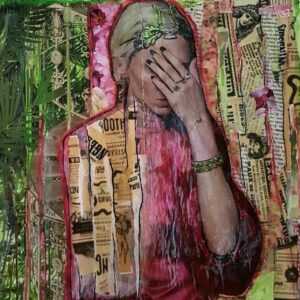 After focusing on painting in her early years Audi then turned to mixed media artworks, book arts, collage, video art and digital art. In her work, she advocates equality and full rights for women so that they can achieve their creative potential and explores the female identity. Now with the global Corona crisis, she is producing a whole new series of work again from the feminine aspect.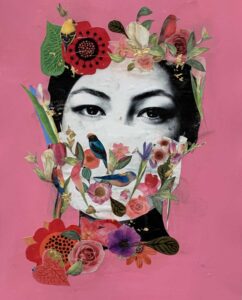 About this one above titled 'Hope', Audi has said: "This is a girl wearing a mask to refer to the need for all of us to protect ourselves; but, then, I decided to decorate her with flowers to give the viewer hope at these difficult times. Yes it is a difficult time and hard on everyone, but there is always light at the end of the tunnel and better things to come.  We just need to be patient, brave and must never give up!"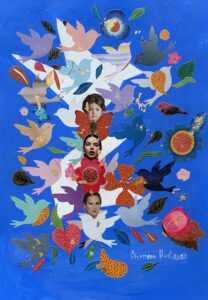 Whilst this artwork has been called 'Suffocate NOT". Audi: "This collage is also about the current situation we are all living in that is scary and suffocating. We are all worried and insecure about what's coming next and when this pandemic will be over. I wrote the word NOT so as to be positive at the same time and not let this stress us. I made it colourful so we can focus on the good and the beauty of everything, like nature around us. I believe we need to be optimistic; for being the opposite (pessimistic) will only make things worse. Let us be patient. I wish safety and peace for everyone."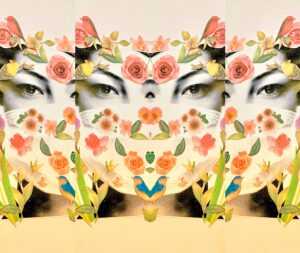 Audi currently lives and works in Montreal, Canada.
The artist has had 11 solo exhibitions and participated in a number of group shows in Jordan, Lebanon, USA, Kuwait, the UK, Canada among others. Her art is housed in many private collections as well as in public collections including Jordan National Gallery of Fine arts. She has held many solo exhibitions and has participated in a number of group shows in the Middle East, Europe and Asia including Germany, Japan, Romania, Finland, Bahrain, Lebanon, Algeria, Egypt, USA, London and Jordan.