Curated by Najlaa El-Ageli, the 'Textural Threads' exhibition forms an integral part of the Arab Women Artists Now (AWAN) Festival 2016. The AWAN is an annual event in March that celebrates Arab female artists in London, by offering them the platform to increase the visibility of their artwork and exposing their talent to newer audiences. The AWAN is organised by Arts Canteen.
United by what can only be described as the fearless feminine spirit, Textual Threads brings five strong emerging artists who will inspire, challenge and make you marvel at the different creative ways each has chosen to approach the topics impacting on the Middle East and North Africa (MENA) region today, whilst offering internal transformations. With a womanly abandon in the use and choice of different textures and methods, what is pertinent to the Arab is revealed, with a great cross-section of origins coming from Syria, Libya, Algeria, Saudi Arabia and one artist who is half-Algerian and half-Bulgarian.
From Dima Nashawi's elegant illustrations that tell the personal tale of being a Syrian living in London, to the use of bold brush strokes of Arabic script on newsworthy photography by the young Libyan Takwa Barnosa, to the captivating digital prints on soft silk material by the Algerian Hania Zaazoua, these artists are reclaiming the imaginative terrain. They all show how art can be the cathartic measure that keeps one sane amidst the crazy dramas playing outside on the streets of a blighted region; or, as in some case, by looking psychologically within for answers.
The five artists striving to advance a peace, hope and love agenda, as well as celebrating womanhood itself and defying simple categorisations of what it means to be an artist from MENA are: Meryem Meg (Algeria-Bulgaria), Dima Nashawi (Syria), Nasreen Shaikh Jamal Al Lail (Saudi Arabia), Hania Zaazoua (Algeria) and Takwa Barnosa (Libya).
Takwa Barnosa (Libya)
The young 18-year-old Takwa Barnosa is a Libyan artists who is still studying for her bachelor's in Fine Arts at the University of Tripoli, but whose artwork has already caused a positive stir. Talented and inventive, she fuses Arabic calligraphy with different forms of mixed media. Utilising powerful newsworthy photographs that range in subject but concerning Libya, she writes over them with word messages to challenge the content of the story told within.
Barnosa doesn't shy away from the difficult existential passage in which the Libyans find themselves, directly addressing the current status of political chaos, anarchy and general disorder. For example, one of her images hints at the burning petrol and the human costs entangled with its production. She also brings to the attention the unfortunate displacement of the Tawerghas in Libya as well as the drowning of migrants who are washing up on the shores of the Mediterranean.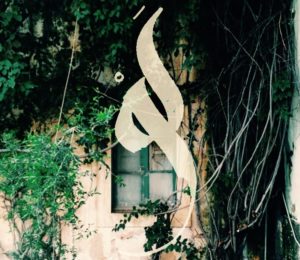 Her choice of word and vivid colours is always substantial and engaging, be it splashed on the digital image or painted on her canvas in various sizes. From the themes of death, to war and peace, dream and fear that apply universally, to the more specific issues relevant to Libya, where she comments on recent events and leaving them open to one's own judgement. Her 'Lost' piece brings to attention the troublingly recent destruction of the Italian artefacts in Tripoli, with the Gazelle statue that was demolished by the attempts to deny colonial history.
Barnosa has given a statement to Nahla Ink: "Most of my works discuss the situation in the community that I live in. I have seen many acts and events happening and that are still taking place, especially in the past two years in Libya. I have tried to show the parts that I have experienced and felt through my artworks."
Meryem Meg (Algeria-Bulgaria)
Meryem Meg is the 25-year-old Algerian-Bulgarian artist with a multi-disciplinary background and a specialty in graphic design. Keen on the themes of fertility, birth and the cycles within nature, she draws upon North African and amazigh marks and symbols in her work. Creating optical illusions and movement through the lines, colours and geometric shapes, Meg's aim is to impact on the mind and create a mystical experience for the viewer, as well as to empower women through her visual affirmations.
In some of her work, Meg also challenges the Orientalist lens looking at the North African female and providing an alternative that is much deeper and far more complex. Utilising the local motifs that are used within textiles, tattoos and ceramics, she demonstrates the systems of knowledge and the ways in which the indigenous communities have structured themselves and told their stories over the eons.
She has provided a statement: "The works are a reflection of my Afro-European heritage where I am also making the contrast with a more contemporary visual influence including urban cultures. Exploring geometry, I use a gestural approach allowing what is typically rigid in structure to flow organically. The desired effect is to captivate and stimulate a sense of self-contemplation akin to a spiritual experience, created to interact with one another synergistically."
Meg offers four pieces for the 'Textural Threads' collective show, two of which belong to a black and white series made with water-based paint on paper and the other two which have been created with acrylic, aerosol and rose water on paper. Using the ancient symbols with diamond, triangular and circular shapes, she builds a rhythmic feel with other lines as she explores fertility and life celebration with the joyful colours to uplift the spirit.
Dima Nashawi (Syria)
The Syrian Dima Nashawi is an artist who strongly believes that art goes hand in hand with social activism and is a powerful means for peace building and engaging with human rights. Although her art illustrations are very delicate, feminine, beautiful and intricate, they actually carry a very powerful message regarding Syria and the longing for return to her hometown of Damascus. Using smooth and curved lines in her illustrations, she attempts to simplify real stories and bring them closer to the audience.
Nashawi's life and work journeys have so far seen her travel from Syria to Jordan, Lebanon and now London, where she is studying Art and Cultural Management at King's college. With a bachelor's in Sociology, she has also studied Fine Arts and worked as an illustrator-animator for magazines and children's websites as well as undertaking social work with the UNHCR to help refugees.
For this exhibition, she presents the incredible illustration fairy-tale titled 'The Mystery of Names in Raindrops' and other pieces. The former is an imaginary tale about a little girl Lana and her mother, as they enter a world in which a witch lives in a forest and oddly collects raindrops in a jar that are brought to her by deer in return for lashes she makes out of spider web.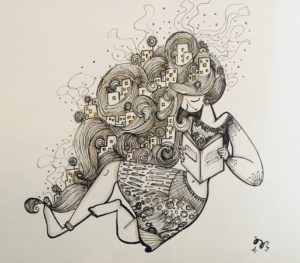 Although initially the witch seems an evil character who weaves curtains from girls' braids, Lana later discovers that she is kind as she also makes carpets and blankets from the silk of cocoon and camel's hair. Significantly, it is in the names written on the raindrops that we find the real stories of Syrians who have been struggling against the regime or other radical elements, with some detained and others who have lost their lives due to the current war situation.
In six other illustrations, Nashawi brings her whimsical creatures: a man who asks a young girl about the meaning of the name Dima, an image of two lovers and the images titled 'Waiting', 'Damascus In My Head', 'On My Way My Lonely Planet' as well as the 'Tribute to Reyhaneh Jabbari'.
Nashawi: "My work deals with the moments of complex emotions that I have felt through personal interactions with my daily surroundings. My art is a revolt against injustice and to support social and political activism and movements. I am expressing an opinion, advocating and telling different stories to break stereotypes and mainstream media's narratives. The current power of art is in delivering messages about Syria that the world is not paying attention to."
Nasreen Shaikh Jamal Al Lail (Saudi Arabia)
The British-Saudi Arabian Nasreen Shaikh Jamal Al Lail belongs to a number of different worlds that have formed the woman she has become today. With a master's in Photography and the use of digital processes, she looks into identity, the negotiation of personal space as well as in dealing with the interactions between the contrasting collective cultural memories and how these may pose problems for the individual.
Having been raised partly in Saudi Arabia and now living as a Muslim female in the UK, she ventures into the questioning of oneself and her potential as an artist. She weaves this 'otherness' into her practice and looks into the subject of self in an ever-changing global society. She is the Co-founder of Variant Space, an online art collective for Muslim female artists.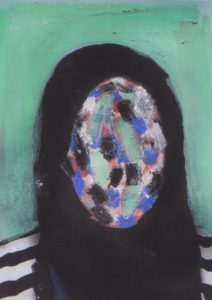 Al Lail here offers images that form her 'Hidden Colours' series as well as two images from the 'Rooftop' project. In the first series, she explained: 'This charts my personal identity that is defined by my mix of cultural backgrounds, with a Saudi father and an Indian mother as well as growing up in Britain. It explores my attempts to accustom myself to three cultural identities, whilst imposed ideas of where I belong or how I should be cluttered my self-perception.
"The colours reveal the hidden emotional journey attached to the hybridity of the cultures I grew up with. The images were taken using a photo-booth in order to interrupt the space which is used to define identity and produces a conforming, standardised image, which I manipulated. The same image is then changed gradually in reference to the way my identity is constantly in flux. The colours act as a force or barrier to conceal and reveal the self."
In terms of the 'Rooftop' project, Al Lail said: 'Identity and space are intimately connected; space delineates the scope for identity. This is particularly the case in the context of Saudi Arabia – space necessitates the very ground for a coherent identity. I use the rooftop – open space – as a metaphor for progressive, liberated and open-ended possibility. By placing a young girl – symbolising innocence – in such a space, I am trying to describe how identity flourishes best when there are no barriers and no ceilings."
Hania Zaazoua (Algeria)
Hania Zaazoua is the 39-year-old Algerian designer, visual artist and stylist. She is a graduate of Fine Arts and woks as the Design Director at Bergson & Jung in Algiers. She has also established her own interior design brand called 'Brokk Art' in 2012.
Zaazoua draws her inspiration from personal wanderings, be they real or virtual and creates work that flirts with a trivial dream world and explores an alternative version of the society that she lives in. Enjoying the use of paradoxes, she looks at the complex relationship between the cultures of the East And West.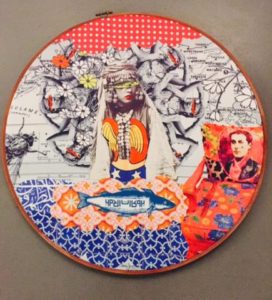 Using digitally manipulated images that she presents on soft silk material – that is stretched onto circular embroidery frames – her work deconstructs and recomposes popular or historical cultural icons and manipulates the tales being told.
In the 'Young Ladies of Icosium', we see a vision of the timeless Algerian women, renowned for storytelling and wisdom. As leading characters, they all present both an interface and an interference between East and West. Set in an undetermined time and space, they allude to the themes of decolonisation and self-empowerment and also refer to Picasso's 'Young Ladies of Avignon'.
In 'Wonder Lalla', the artist creates an Algerian version of the warrior-princess super heroine. Whether contemporary or ancient, she is a multi-generational role model. The use of the title 'Lalla' is of Berber origin that signifies a mark of distinction for the woman. The other works presented in 'Textural Threads' are: 'Discretion Zone', 'Mahmoud & Tassadite' and 'Daydreaming'.
Zaazoua has provided a statement as well for Nahla Ink: "In a world where reality is fantasy… that specific prism, different and sometimes close, I propose an alternative world that is dreamlike and almost falsely naïve. I use clichés picked up from the media, literature material and films that have references to the West; but, being from the East, I create the reactive heroines, some who are real and others fictional."
The 'Textural Threads' exhibition will be on display from 2-19 March, 2016 at the Rich Mix venue in Shoreditch, London.
For more information on Arts Canteen and the AWAN Festival: https://artscanteen.com/
For more on Najlaa El-Ageli: https://www.noonartsprojects.com/
Note: This article was first published circa March 2016