After a short break from the Artist of the Month feature, Nahla Ink is back this June with a new creative whom I am super pleased to introduce to my readers and followers.
Palestinian artist Zaid Ayasa and I got in touch back in October 2020, when I discovered his art page on Facebook. I was taken aback then by his dynamic visual artwork as it approached the Palestinian story; and, its recurring themes of home, belonging to the soil, displacement, desire for peace as well as the right of return.
Using keys as a symbol and the Dome of the Rock in Jerusalem as the iconic backdrop, his pieces treasure all that is personal to the Palestinian, his verdant land and its fruits, for example, and the indomitable human spirit that has endured so much for so long.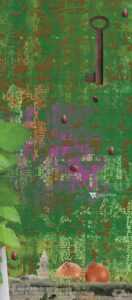 Now that the world had to witness yet another threatened-forced eviction of Palestinians (families living in the Sheikh Jarrah area of East Jerusalem) and the horrible events that unfolded since, including at the Al Aqsa Mosque and attacks on Gaza, it is more relevant than ever to keep attention on local developments there and ensure we take the humanitarian stand by calling out this apartheid regime and join calls for positive change.
I am also pleased to share that Nahla Ink has signed to the Mosaic Rooms' call to cultural organisations, artists and writers, for solidarity with Palestine and what that entails. You can learn more about this here: https://mosaicrooms.org/call-to-cultural-organisations-artists-writers-for-solidarity-with-palestine/
Biography: Courtesy of the Artist
Zaid Ayasa was born in Nablus, Palestine in 1984 and grew up in Jenin. He is now living and working between Jenin and Ramallah. His artistic education saw him graduate with a BA in Fine Arts & Interior Design from Al-Najah National University, Nablus in 2008.
Utilising a variety of mediums, Ayasa's techniques and materials include digital and free hand drawing, sketching and painting. Many of his digital projects were necessary as choices have been dictated to by the worsening economic situation and the high cost for materials and artistic tools, such as brushes, colours, oil and acrylic on large canvases.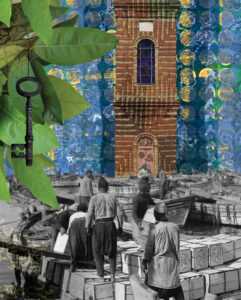 His passion for art however has no limits, open to all forms and dimensions. He has said: "Art preserves my soul from coarseness. It moves me slowly but surely, almost invisibly, yet radically onward and upward. Its fuel feeds the fires within me and allows me to experience and express passion and inspiration. To me, it is an endless opportunity of moments and connections with inspired meanings."
Ayasa is also a professional musician who plays the darbuka, aka a goblet drum. He is fascinated by rhythmic multiculturalism and diversity, with a specific passion for traditional folk and indigenous music.
Describing his love for music and movement, he's said: "As such, rhythm is my addiction. I hear and watch all vibrations and hues of sound emanating around me. Drumming is like a primal, more guttural, unarticulated call that rises up in me an unleashed yet healthy expression, as well as the desire to unravel, to play, to fly, to pray." He has performed in many shows in Palestine, Jordan, the UAE and Italy.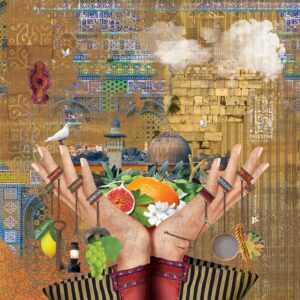 Currently Ayasa is working as a freelance graphic and branding designer, with a focus on advertising and branding campaigns. This professional niche has seen him twork in the UAE, as well as in Palestine, Jordan, Romania, Italy and the UAE.
He is also involved with projects that open up dialogue and discussion concerning the Palestinian reality of land and peace issues. His focus is on the human being, the daily details of worries and dreams, frustrations and joys, life in general as well as the personal.
Through his art, Ayasa attempts to highlight the interactions and constant negotiations for the Palestinians; with the miseries, the nonsense, the siege, blockade, the apartheid wall, the roadblocks, the tragedies, the calamities, the racism, the right to land and property, private space, and peace.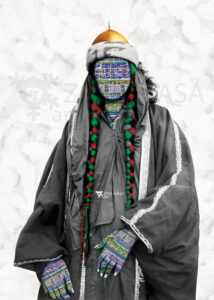 Revolving around types and forms of artistic resistance, heritage and clothing, Ayasa has contributed to the Palestinian Cities and Women Project, and the Man of Jerusalem Project. Always he asks the existential 'why' of the wars and the dead. Why the occupation, the violence and lying? Isn't life too short and none of us are immortal? Is it possible to live in peace?
He's said: "I regret not having been too active with regards to exhibitions and shows. The art scene in Palestine is suffering from the daily miseries of the occupation, poor economic conditions, lack of time, all coupled with the lack of interest on the side of the Palestinian Authority to showcase artists and provide them with institutional support."
Ayasa has exhibited in Palestine, Italy and the UAE.
This artist's desire is to be in a large open space where he can offload the lines, ideas, and themes that linger in his mind and soul, to rendezvous with his many selves on a short trip and sit down and talk about a better future under a blue sky and warm sun. Looking forward, he wants to secure a scholarship for postgraduate studies in art.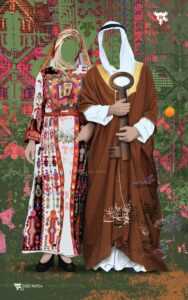 To follow Zaid Ayasa on Instagram: https://www.instagram.com/zaidayasa/
To follow on Facebook: https://www.facebook.com/ZaidAyasaArtist