The message is urgent and impassioned when I caught up with the incredible British-Moroccan actor Nabil Elouahabi last week during a break between rehearsals. His new play 'The Nightmares of Carlos Fuentes' opens tonight at London's Arcola Theatre and is about an Iraqi refugee who comes to the UK seeking asylum but adopts a Mexican character in the form of Carlos Fuentes.
Elouahabi spoke frankly about the conflicts he's experienced as an actor from an immigrant Arab background, the soul-searching about his identity living in the West, the frustrations of being typecast as well as giving me a sneak preview of the edgier elements of 'The Nightmares of Carlos Fuentes' – a project he's been instrumental in getting off the ground, from initial concept to premiere-ready production.
Elouahabi is best known for playing Tariq Larousi in 'EastEnders' (2003-2005) and Mr Mustapha in Channel4 TV drama 'Top Boy'. His impressive succession of complex roles also include parts in 'The Path to 9/11', 'Mad Dogs', 'Ali G Indahouse', 'Generation Kill', 'Zero Dark Thirty' and 'Journey to Mecca'.
I started by asking him how he defined his ethnic identity today.
Elouahabi: "The pull and push of Identity in my personal experience has been fascinating. Being first generation born in London of Moroccan parentage, I can speak Arabic in the dialect, but am not able to read or write the language. But I've also felt this apprehension as a slight outsider in my own community; when as a family we used to go back to Tangiers it was clear that we were Brit-Moroccans. So I started to identify as a Londoner."
In his thespian career he has been cast as the 'Other' which has, on the one hand, clearly been an adventure -it has helped push his success and being offered many lucrative roles here in the UK and in the US – but what has that really felt like to be type cast?
Elouahabi: "Although I am one of the lucky few whose had a varied career and played many parts, I do find the prevailing Arab narrative in TV and film very frustrating. The documentary 'Reel Bad Arabs: How Hollywood Vilifies A People' directed by Sut Jhally highlights this brilliantly.
"Recently, also, there was a piece in the London press regarding my frustrations about playing terrorists and I had some comments claiming I was being naïve – as obviously there are terrorists who happen to be Arab and therefore by extension Arabs would be portraying them. This is logical and one of the most enjoyable experiences I've had to date was playing the real-life terrorist Ramzi Yousef in 'The Path to 9/11', but what I do have an issue with is the lack of or the very small spectrum of representations available that are not the all too familiar."
Starring Role In 'The Nightmares of Carlos Fuentes'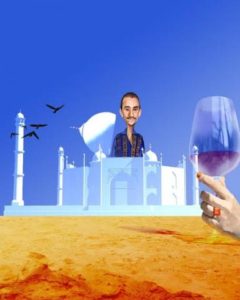 Eluoahabi: "As I've grown older, I now want things with more depth and addressing more difficult questions. I was looking around for work involving Arab men and Arab stories, but not in the traditional Western prism of either terrorist or the 'Other'. The chance came in 2009 when I narrated the Iraqi author Hassan Blasim's collection of short stories called 'The Mad Men of Freedom Square' that included 'The Nightmares of Carlos Fuentes'.
"I found them all beautiful, visceral, direct and disturbing; as they look at what happens when the human condition is disrupted and where there is violence; something common in any displaced culture. So I approached Hassan for the rights to adapt the story and commission a play to be performed here in the UK. With some challenges along the way including funding, I am now working with the incredible director Nicolas Kent and writer Rashid Razaq and we are almost ready for the opening. "
Relishing the first night of a project he is proud to call his baby, Elouahabi will – perhaps surprisingly – address the issue of self-loathing that can many times accompany an identity crisis.
Elouahabi: "What really got me in Hassan Blasim's original story – and to a degree in our stage version which slightly differs – is the self-loathing the character of Salim/Carlos has. I have witnessed this growing up and when mixing amongst the Arab communities, that there is a bit of a self-loathing. I must stress that it is my experience and not to generalise; but, I have heard grown Arab men comment on other Arabs in derogatory ways which you would expect from far right fascists!
"So I wanted to explore this kind of illness, where the play is not really about the politics – because we understand or claim to understand the politics – it is more about the human cost and what happens on the interpersonal level; when we look at this Iraqi refugee who comes to the UK and as we follow his experience of trying to assimilate and to put a human face to the story. I knew it was going to be a challenge but very much worth exploring.
"That is when I approached Nicolas Kent because of his many, many fantastic plays that offer a platform and voice for what I call the 'Voiceless'. Not only has he dealt with the Nuremberg Trials, Stephen Lawrence and Guantanamo, I was fortunate to have worked with him on 'Crossing Jerusalem' (written by Julia Pascal) and 'The Great Game: Afghanistan' (2010). He agreed and we both then co-commissioned Rashid Razaq to write the play."
As much as this production will offer a much needed insight into some of the issues of being Arab at a time of severe unrest back in the Middle East, the content is likely to inflame as many controversies here in Britain today.
Elouahabi: "I don't want to spoil it but at the heart of the play is Salim's yearning for his family. He has a wife and child back home but has to flee because of sectarian violence. He is propelled and forced to leave Iraq and be a refugee coming to Britain, where he tries to reinvent himself as a Mexican Carlos.
"In Lydia, he is attracted to this older, very successful and powerful lady who tries to turn him into a British gentleman; where all that is British is great and anything foreign is rubbish. Metaphorically and maybe in a cruel way, it is also about her liberal ways of treating him as the exotic Arab. But then as in many relationships, they become strange bedfellows.
"The script is very funny but the story is also tragic, approaching the split in the psyche that makes this play very Jungian. What is it that is real? And, what happens when the sense of self becomes fractured or when disorder becomes the norm? There is a lot to see, with a bit of sex in there and a bit of kinkiness too."
Ultimately for Elouahabi, this play is about creating a better platform for Arabs and their stories. He said: "It is all about changing the prevalent theatrical lens because we need to put on a different lens. We have as Arabs in the West many stories to tell and they are wonderful stories. What drives me is in the continual sharing because in that we immediately share our frustrations, share our aspirations and share our dreams. This is what can really bring us all together.. the human experience."
For more information and to book tickets: https://www.arcolatheatre.com/event/the-nightmares-of-carlos-fuentes/
Note: This article was first published circa July 2014