Reading of Prince Harry's first official trip to New York last week, he visited Ground Zero to meet up with New York's Governor and the emergency fighters who helped quench that mad raging fire. There Prince Harry paid tribute to the victims of Nine-Eleven and opened the British Memorial Garden in Hanover Square to honour the 67 British casualties. He then planted a Magnolia tree.
Although this was a solemn affair, the star-struck Americans were completely bowled over by this young bad-boy royal. Many adoring young and old female fans had come from all over the United States, to catch a glimpse of him as he lay a wreath and hoped to get in line to shake his hand.
Exactly the following day, fantastic, racy and sexy pictures came out of the Prince as he played Polo at Governor's Island. Not disrespectfully, the small game event turned out to be a greater highlight of his short visit.
New York's stars and celebrities all fought to get a seat; and, the likes of Madonna, her toy-boy Jesus, Kate Hudson, the Rapper LL Cool J and his wife reportedly paid up to $50,000 to be there – all going towards charity of course.
Admittedly, he is a handsome prince and I understand how this attractive, young and athletic male on horseback – all sweaty and hot from riding – is a turn on for any woman, irrespective of age. Still, I've never manically followed the Royals and I cannot understand the frenzy surrounding their love and fascination with horses. But who could I judge the Americans when I don't know a thing about appreciating a game of Polo?
Call it synchronicity. On the following Monday, I got an unexpected invite to attend a game of Polo between the English Guards and the United Gulf Cooperation Council, the GCC. They were having their annual match at Smith's Lawn in Windsor Great Park and I was promised there would be drinks, lunch, a charity auction, speeches and scones with clotted cream.
When we arrived after a two-hour drive from central London, we found the place surrounded by greenery, peace and quiet. As we entered the white gates, the ushers indicated where to park the car and led us to the large white marquee where everyone had already gathered for lunch.
It was clear that this was not your average run-of-the-mill sports event but something highly exclusive. There were no more than a hundred and fifty attendees and the women were dressed in designer outfits and the men in formal suits and tie. The tables inside were also decorated with expensive flowers and tea lights and the especially prepared food served on china plates and silver cutlery.
Unusually for such a small group, there were ten professional photographers snapping away and a couple of Arabic TV crews taking coverage and interviewing the guests. In jest, I was nudged to be on good behaviour because I was in the presence of royalty. What? Royalty? My friend pointed to the head table.
Sitting in traditional garb was HRH Prince Abdel Aziz Bin Ahmed of Saudi Arabia surrounded by dignitaries. Next to our marquee also was the Royal Box for HM, the Queen for when she arrives. Apparently, it is tradition that she presents the Polo trophies. Ashamedly, I squealed in delight before I could check myself! I was excited to see, for the first time, this constitutional imperative of an individual and the face of Great Britain. Where was she? I couldn't wait to see her.
Before her arrival, the game started. I thought to learn a few things. Polo is a truly graceful sport with four members on horseback playing for each team. They have mallet sticks with which to hit the ball – usually made of wood or plastic – in order to reach the goal post on either side of the field.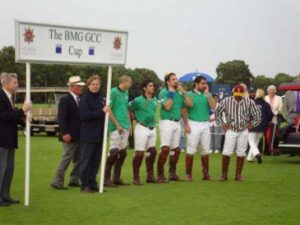 It is played in four quarters or six round – called chukkas – that normally last seven minutes with up to thirty seconds for overtime. And, in between, the horses rest for some minutes to recharge. That is it! Nothing too complicated. But it is clear how the players have great skill and training to get the horses to play in such an elegant way.
On the day, the GCC team won four and a half points to three by the Guards. When it was over, the players disembarked from their horses and got ready to receive their prizes.
"This is my moment to see her!" I thought. So, I ran near to the field for the ceremony and minded I didn't slip on the grass with my high heels. As expected, everyone else was trying to get a good view too. And she finally walked out of her Box. Total silence descended and then, quickly, the cameras began to click and roll. It was all I could hear for five minutes- click, snap, click.
HM the Queen did not disappoint. Close up, she is impeccable charm, style and refinement. For the occasion, she was wearing a floral white and fuchsia dress with matching long jacket, white shoes and signature pearls. As it was slightly raining, she also had a matching pink umbrella held by her assistant.
I cannot say that I heard her speak or that I shook her hand. She just stood five metres away from me and presented the BMG Trophy and medals. Before I had more time to satisfy my curiosity, it all ended and she was escorted back and everyone cheered and clapped for her.
I realise now that I was got too eager and excited to see the Queen. So, yes, I'll eat and enjoy the humble pie I owe to the Americans. As for the game of Polo, I highly recommend you go if you ever get an invite. Just dress your best and take your camera. You never know which royal you might bump into.