Set in a world in which we have become a bit like zombies, not knowing how to respond to the news we hear or read about everyday. Bombarded with fake and true information, many are no longer sure of how to act in the face of others' suffering or indeed towards the awareness that we all now live under subtle surveillance and manipulation. Instead we choose to be deaf and blind by turning to other stories that can assuage our conscience and help us deny responsibility.
It is this indifference on the global scale that 'Curfew' confronts the audience with. An original dance performance, it draws upon a mix of contemporary-modern moves and the traditional Palestinian Dabke. Creatively directed by Sharaf Darzaid, who is a member of the El-Funoun Palestinian Dance Troupe, it refers one to the local struggle against oppression and how dance has become a form of resistance and an empowering means of self-expression.
Nine dancers in total, who all contributed with their personal stories and ideas to the final routine, four of them came all the way from Ramallah in the West Bank to represent El-Funoun: Mohammed Altayeh, Khaled Abueram, Sharaf Darzaid and Lure Sadeq. The other five dancers, belonging to the London-based Hawiyya Dance Company, were: Jamila Boughelaf, Sylvia Ferreira, Sali Kharobi, Miriam Ozanne and Serena Spadoni.
Structured by scenes that are set in Palestine and in the universal realm, we see how brief moments of happiness and normality are interrupted or sabotaged by the loud voiceover of political news that leaves the dancers deflated, at a loss and feeling helpless. In other acts the performers also appear to be at the mercy of work production lines and hypnotised by the sound of a ringing alarm clock which forces them back into a state of submission, meekness and withdrawal.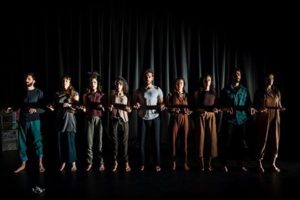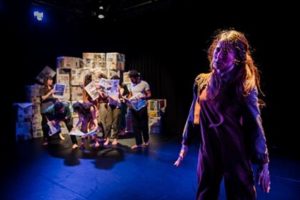 Significant props include mobile phones that indicate both the lack of real human interaction in today's busy world – as they distract, separate and isolate – and the fact that these little devices are an important tool to finding non-biased truth through social media channels. Whilst black masks come to convey that there are yet dark forces lurking in the shadows of our existence, keeping a computer-generated eye on our moves as well as secretly profiling each and every single one of us.
Amidst the confusion, the evident psychological abuse of minds and exerted physical control over bodies, the routine dramatically develops into the final scenes when the dancers consciously wake up to their predicament. It all then ends in spectacular fashion that engages directly with the audience by giving two dares that can be accepted or rejected at will.
Insight: Creative Director Sharaf Darzaid & Executive Producer Jamila Boughelaf
Curfew came about when three members of Hawiyya were on a visit to Palestine last year and experienced first hand the demoralising ways of the occupying force – like, for example, the unnecessary interrogations at border check points. So when they met Darzaid there, who was coordinating the annual Palestine International Festival for Dance and Music, they decided on a collaborative project to bring the story back to a London audience.
Boughelaf, executive producer for Curfew, explained: "When I came back from Palestine I found many people who wanted to hear my stories. But I also found many others who refused to acknowledge the facts and others asking me why I cared so much as there is injustice everywhere and you can't do anything to change it. My response is why don't you care?
"This is really what drove me to make this project happen and after discussing with Sharaf, as well as all the dancers from Hawiyya, we realised we were all asking ourselves the same question: are we doing enough? We may not be able to change the world's politics, but if we manage to change even one person's understanding of reality I feel that we have done something!"
Wanting to learn more from Darzaid, who has been an active member of El-Funoun for over seventeen years as a dancer, trainer and choreographer, I asked him firstly to expand on the choice of title 'Curfew' and tell me about the role of Dabke in the production.
Darzaid: "It is called Curfew for two reasons. Physically especially in Palestine, we have a certain time of curfew, when no one can move out from the houses in the West Bank. Even if we secretly want to go to the dance studio, we have to close the door after we enter, put down the blinds and keep the lights down, so that they can't see that we are in and the music volume is low.
"We spent months under curfew and couldn't move… the Israelis would give us a couple of hours a week to go out and bring food and go back home; and, even before or after this curfew, we are still not freely able to move from one city to another, because of the checkpoints between the cities.
"For example, I can't go to my capital Jerusalem, I need permission to go there. Or Gaza. If I want to travel to places like here in the UK, I need to bring a lot of papers in order to prove that I am a 'good human', and therefore travelling between the cities and between countries, this is the physical meaning of curfew.
"Sometimes you want to take a position to resist the oppression but many times, you can't even do this because you are forbidden. So even in your thoughts you are not free and there is a curfew. To quote Desmond Tutu, 'if you are neutral in a situation of oppression, you've chosen the side of the oppressor'; and, Paulo Freire said: 'Washing one's hands of the conflict between the powerful and the powerless means to side with the powerful, not to be neutral…'.
"We are coming from a place where we are under occupation and this is one of the stories about what we do. We don't' give answers, we give a question. What do you do? Do you take action or do you maintain? Even being silent is a political position. Saying no I don't' care what happens, I just want to wake up and work and have money and by the end of the day I have my drink and eat and sleep, you can take this position. I say nothing. I say in this case you are maintaining."
"(In terms of the dance) I am inspired by folklore and trying to speak in this choreography by using Dabke as an identity and not as a movement. We are doing a contemporary production and one of the pieces is about the Palestinian wedding where there is really Dabke. But the rest draws upon the energy, power and the meaning of Dabke as resistance. You can feel it throughout the production."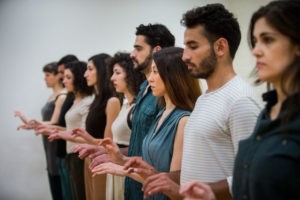 I left in awe of the dancers' energy, fluidity and expert movements led by the highly skilled choreography. I also went away with great respect for Dabke not just as a dance; but, also, as a source of cultural endurance that is being passed down Palestinian generations and being widely shared by others who wish to stand in solidarity. The big question is who will be joining in and taking their first dance step into resistance for a free Palestine.
For more on Hawiyya: https://www.facebook.com/HawiyyaDabke/
For more on El Funoun: http://www.el-funoun.org/
Photos credit: Jose Farinha: https://www.josefarinha.com/
Note: This article was first published circa March 2018