The Olive Jar is a new play directed by the Palestinian Elias Matar who utilises the applied theatre model to work with 12 individuals of Arab origin, all currently resident in the W2 London postcode. Staged last weekend at Grand Junction, as part of the biennial Shubbak Festival, it is a brilliant example of how the socially-informed method can empower a niche community to share its real lived experience, on its own terms and turf, and gently touch the heart of its audience.
Under Matar's sensitive yet confident instruction, informed by his strong narrative therapy background, the mix of male and female participants – eleven of whom have no prior thespian experience – conquered any debuting stage fright by beginning to open, in sequence, the neatly placed olive jars around the stage, with very few other props needed. Each glass container held a real tale of personal migration, displacement and subsequent diasporic settlement in the United Kingdom, the place each of them now calls home.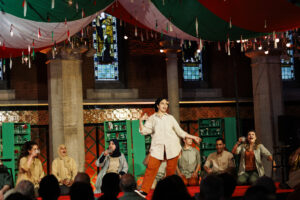 The first one to share was the energetic Mariam of Algerian descent. Over a cup of mint tea, she told us of how her blacksmith grandfather had left Algeria due to an inheritance dispute with his siblings, set within the context of the French occupation that spanned 132 years. Making reference to the complex post-colonial legacy that impacted waves of Algerian migration to Europe, it is a reminder of the historical role of Western intervention in the Middle East and North Africa region.
Next Hafiza comes forward. Named after her Palestinian grandmother who was twice widowed and made to be a refugee, due to the 1948 Nakba and declaration of the state of Israel, she reminds us of Britain's relationship to that ongoing conflict. She is followed by Majida, a veiled older Palestinian/Lebanese woman, who relays the tale of when, heavily pregnant, she arranged to escape for her unborn child's sake. In fact, she ended up giving birth to a boy onboard a flight headed to the United States, whom she would later lose at the tender age of 22 years.
Continuing with the others. Ali is the newly arrived Iraqi refugee, who with broken English, says his story is still too raw and difficult to recount and may be too much for others to hear. But then a lighter vibe takes over with the humorously philosophic Adam, a lost Lebanese tourist who slept on London's park benches for weeks on end, and still remembers hearing the loud bang of the Hyde Park bombing by the IRA in July, 1982!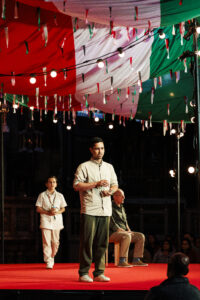 The stage then quickly transforms into a wedding scene for Syrian bride Nasrin, whose big day was disrupted by Saddam Hussein's invasion of Kuwait, that impacted on her marriage and reasons for travel. Soon turning into a kitchen for Sarah, the half-English girl, the desire to recreate an Arab grandmother's aromatic dolma finally reconnects her with long-lost Middle Eastern relatives. Then it is Amal, the humble feminist, who was deprived of rights and freedoms for being a girl – as basic as wanting to swim and ride a bicycle – and so ran away to spare her daughter the same fate.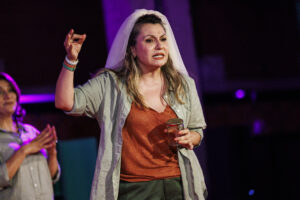 The two Iraqi women in the group then contribute. Whilst Phayaphi fled because her family members were being executed by Saddam Hussein for being opponents of his brutal regime, Lana left Baghdad due to the upheavals caused by the American-led /British invasion of Iraq in 2003, and the resultant war which destabilised the country. As they put it, "war is separation" and the reason why ordinary people come to seek refuge in a foreign land, even when confronted by the challenge to start all over again, far away from all that is familiar and of comfort to them.
Lastly a word about the youngest cast member, the eloquent 7-year-old son of Lina, a Syrian woman who chose not to open her jar but stood on stage supporting the acts of all the others. Her handsome little boy assuredly took to the pulpit in the sacred St Mary Magdalene's church, to keep an imaginary register as part of the dramatics of the play. His role, according to Matar, is to represent the people we meet on our various journeys, who support us to open our glass containers. I couldn't help but also notice the pride in Lina's eyes as they followed Ali, trusting she's done the best to secure him a brighter future.
As these talented and warm, funny and intelligent, kind and generous souls aired the symbolic Olive Jar(s) to deliver the performance of their lives, I sensed the firm friendships and neighbourly bonds now forged between them, and the huge respect towards Matar. As the director tasked with steering the project, which began in October 2022 by way of weekly-held workshops, Matar has accomplished an incredible feat of applied theatre that truly honours the vibrant Arab community in the Paddington area.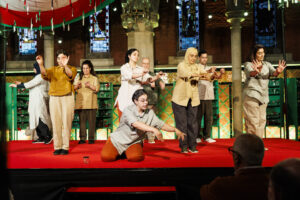 By devising the simple yet truthful script for his aspiring actors, for most of whom English is not the mother tongue, it allowed them to proudly and publicly perform in an adopted second language, with only brief Arabic segments. It actually felt like they wanted the audience to see them in light of their 'Britishness' and not their 'otherness'. Indeed one can only imagine the troubled emotions when any of us comes across the continuingly unfair coverage that dehumanises those currently attempting to cross the seas, individuals risking everything for safety and survival.
So I truly enjoyed every element, including the live music by harpist Georgie Pope and percussionist Nuno Brito, as well as the Arabic lyrics and poetry composed and sung by the Palestinian Ruba Shamshoum. Her graceful voice gave the Olive Jar an added spectacular ingredient and the magical atmosphere. As a grassroots performance based on the real pains, desires, struggles, horrors, loves and dreams of its stars, this was a rare treat, so delicately and skillfully put together.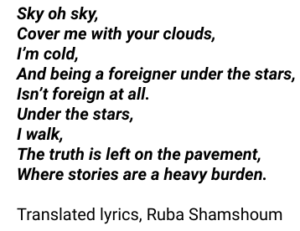 For more on Shubbak Festival, the UK's largest biennial festival of contemporary Arab arts and culture: https://www.shubbak.co.uk/
For more on Grand Junction, the venue for arts, culture and community based at St Mary Magdalen's Church: https://grandjunction.org.uk/
This Nahla Ink article was first published circa July 2023