Marking the beginning of the New Year 2021, Nahla Ink is super glad to bring the works of the Algerian artist Yazid Kheloufi. He and I connected on Facebook and I fell in love with his work straight away; the poetry, the spirituality, the elegance and profound contemplation of the sacred as well as the reverence for the Arabic alphabet.
A versatile artist, his work includes etchings on clay, ceramic sculpture, paintings,  installation, graphic design and photography. 
Biography (Courtesy of the Artist)
Yazid Kheloufi is an artist originally from the region of Maghnia (Wilaya of Tlemcen) in Algeria, where he was anchored from an early age in a land steeped in history and mystical practices; these are the traces of a multi-faceted heritage, which can be found in his works, as he draws upon his roots to extract the beautiful, linking a great spiritual tradition to a culture enriched from various sources.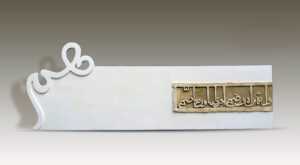 His work as a contemporary plastic artist, indeed reflects, like his spiritual practice, a certain maturity. The line dance and profusion of graphics (letters and symbols) inspired by Arabic poetry, as well as on a spiritual lineage, are a common thread in his artistic creation, integrating into an Arab literary heritage. The spellings and text complement each other and call on one another, managing to account for the intimate momentum that inspired the writing; the letters also register a spiral movement symbolising the movement of the soul.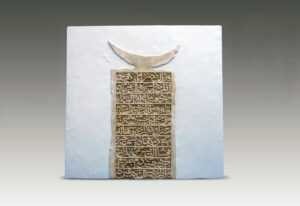 Conversely, when he tackles the concept of emptiness, on a mixed clay support, he reveals a complex simplicity, encrusting modelled letters imitating the ancestral stucco, that of the Arab Andalusian masters; he then gives them a new more contemporary dimension. Whatever the medium, the purity and the power of Kheloufi's work are such that the line seems to disappear, as if to go beyond matter.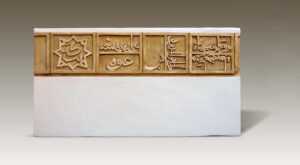 Artist Statement (Courtesy of the Artist)
"Since my earliest age, I have been inhabited by letters and I have always wanted to understand the meaning of the wonderful Andalusian-style epigraphies; perched in the various mosques and shrines of my region (Tlemcen wilaya) that is rich in its civilisational past. I try to reproduce them in the ancestral way of the great sculptors of letters from the Andalusian era, whose names remain anonymous as their great artistic achievements were often attributed to the names of caliphs and Emirs!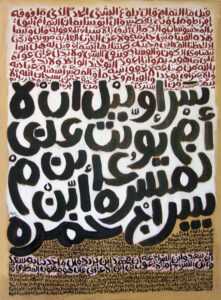 "It is a purely personal involvement and a tribute that I wish to pay to these great figures of Islamic art. In my work I attempt to treat phenomenologically "the art and aesthetics of emptiness" as well as the poetics embodied in the alchemy of the "artist-instant-matter" relationship. 
"The image, also, being of the order of the sensitive, pushes man towards materiality and tactility; while words go beyond these limits. The impression left by an image is above all sensitive, while the impression coming from words is abstract, emanating as it does from reason, soul, heart and the interiority of being. Everything has both an apparent image and an underlying image. The image of the thing is not limited to its appearance, it also includes its interiority; for that is its truth and meaning, joining in this the power of words."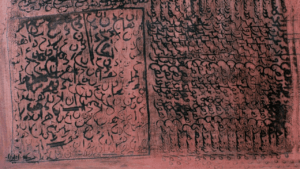 For more information about Yazid Kheloufi: https://yazidkheloufi.jimdofree.com/